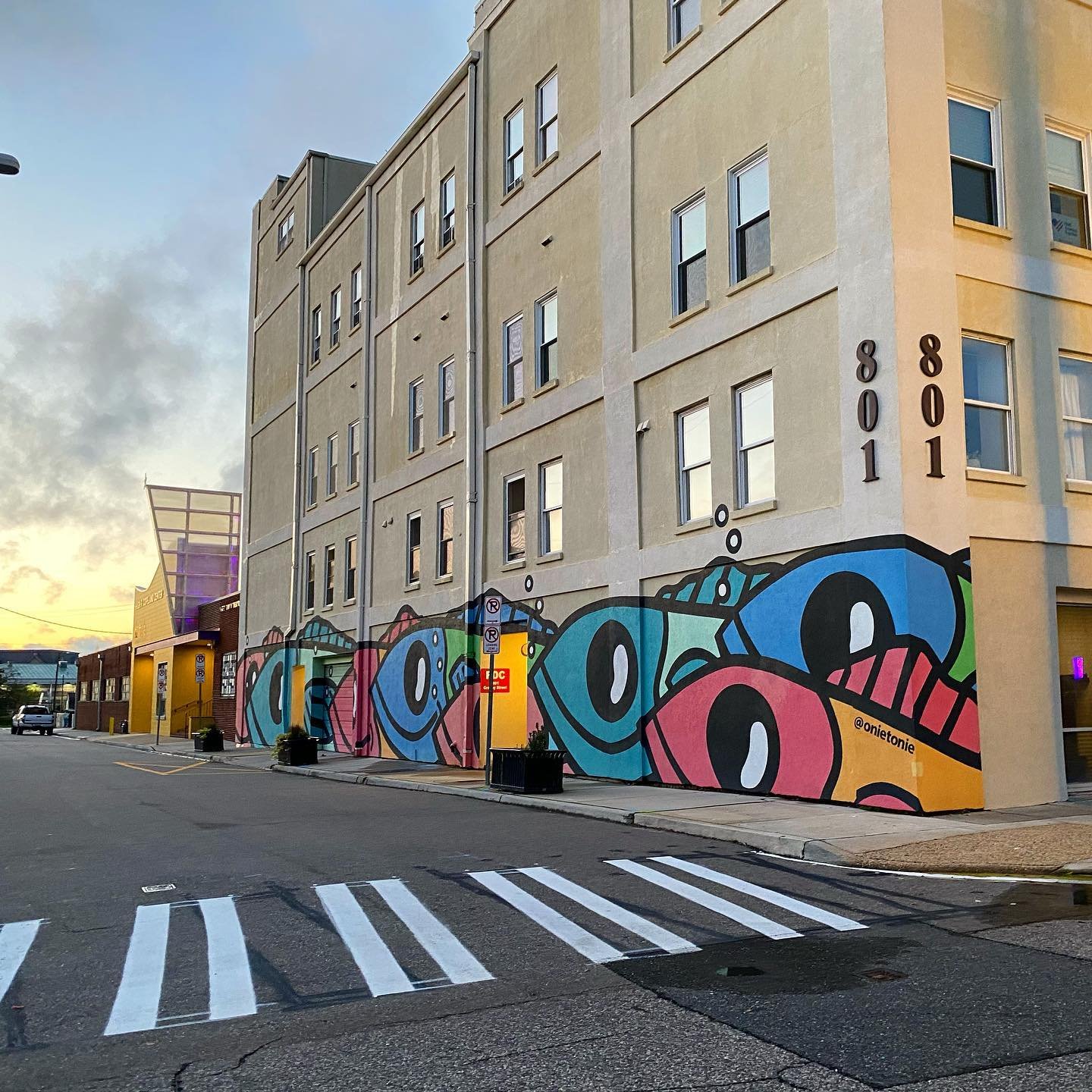 "Happier Times", a mural by artist Troy Summerell, also known, as OnieTonie, can be found in Norfolk's NEON District at 801 Granby Street. Summerell is a Hampton Roads based artist who is passionate about impacting the community with art, specifically colorful, happy, and playful designs. His love for the ocean and surf culture greatly influences his work. Summerell has painted an array of large scale, exterior murals throughout the Hampton Roads area, one being "Happier Times" in Norfolk's NEON District. One of his most recent pieces is a massive mural that can be found inside the Children's Hospital of the King's Daughter (CHKD) in Virginia Beach, where his goal was to "bring smiles and joy to young patients who need a pick-me-up".
Take a peak inside the mind of Troy Summerell, the artist behind the mural "Happier Times", to ask a few questions about his piece.
What was the inspiration behind this piece?
"I got lucky and got in early with the NEON District. I was able to walk around the whole neighborhood and pretty much pick what I wanted to do, then of course had to get it approved through the proper channels. I had already done 'Art Everywhere' on Granby St. in 2011 so I had a prior relationship with Jesse Scaccia who was helping start the NEON. The Plot is the center of the district so my thought was to put a colorful school of my OnieTonie™ Smiling Fish from the Plot and run it down the 801 Building towards the new Glass Wheel Studio and the Chrysler Museum. The plan was to make the design bold and colorful and I couldn't have gotten luckier with the location."
How did you get started with murals?
"I got started with murals when I did my first one on my old studio gallery at the Oceanfront, called Studio 17. It was about 3-4 months before I got the NEON opportunity. I think my success with the mural on my studio let me have an easier entry into the NEON opportunity. I had to go into some pretty significant debt to get a space that took up an entire street corner on 17th street and from then I just went for it. Although the majority of my public art has been self-funded, I couldn't be happier how people have chosen to take pictures in front of them, making lasting memories with my colorful, positive art."
What is your favorite thing about Norfolk?
"As far as Norfolk goes, that's where I was born. I could name drop a bunch of places I like going, but I think just in the most simplest terms I love Norfolk and I'm really grateful that I've gotten the opportunity to put up large scale public art there."