All photos by Kari Austin
Erin Dougherty opened Norfolk's feminist bookstore and bottle shop for one simple reason: "I wanted to go to it," she says. So, she created it for others to come to.
As with many entrepreneurs starting out, Dougherty's reason for launching was rooted in a passion to spark change. It was also propelled by factors stemming from the pandemic.
At the onset of COVID-19, she was managing a local craft beer bar. "It is by far the most financially unstable I've ever been as an adult," she recalls. During this same timeframe, uprisings were happening across the country resulting from the murder of George Floyd and the fight against racial injustices. During what felt like a time of hopelessness, Dougherty began asking herself the same question many others were asking: "What can I do?"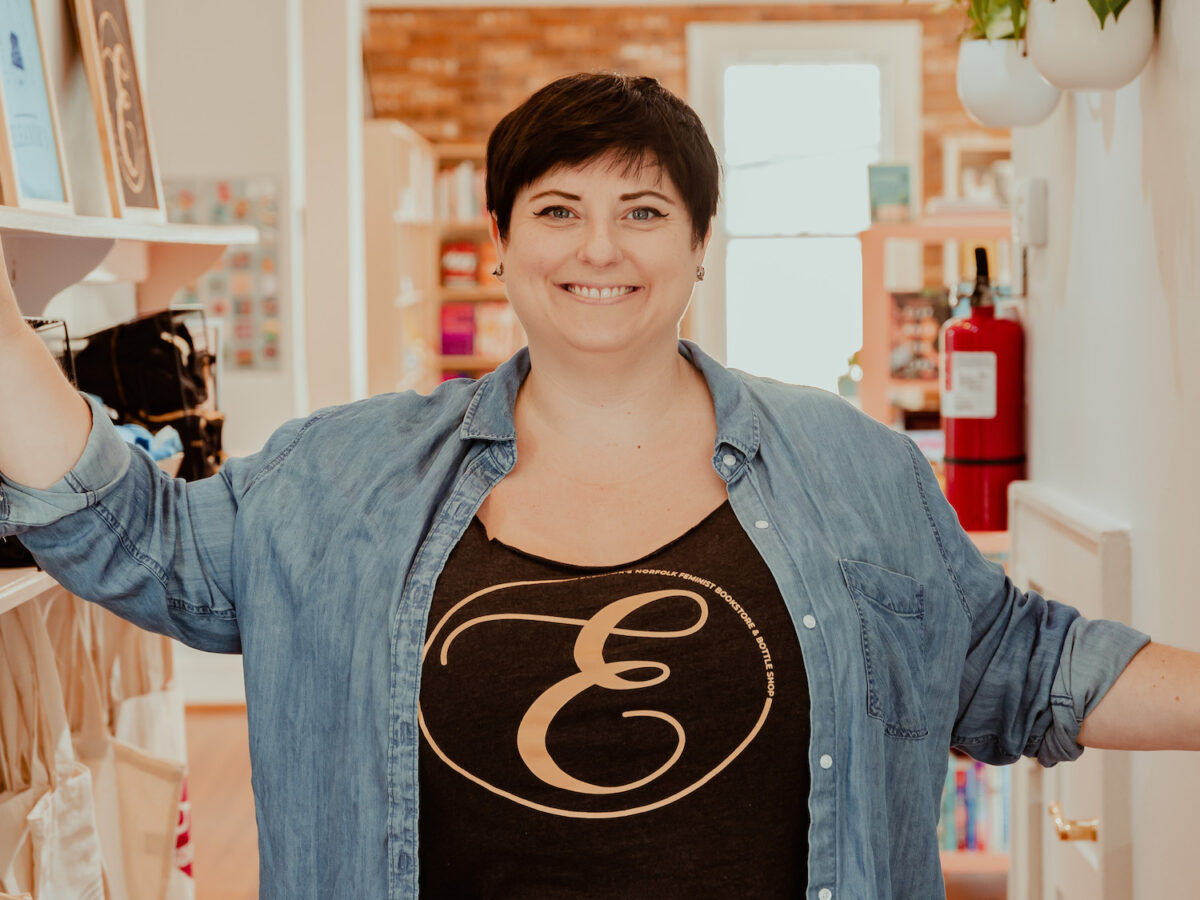 She deeply wanted to get involved, but because of her financial situation, supporting with a donation simply wasn't an option."There has to be something more that I can contribute than just individual conversations," she told herself.
She had visited a feminist bookstore in New York called Bluestockings and felt inspired by the community activism surrounding the space. When talking to her sister one evening, she came to the realization, "I want to do Bluestockings," but also "I just really want there to be booze."
From this realization came Eleanor's Norfolk, a local intersectional feminist bookstore and bottle shop, plus safe space for community activism.
"That's truly how it came about," Dougherty laughs. "It just fit in my brain to be all of the things combined in one spot. You don't have to do just one thing; you can make it whatever you want."
The Books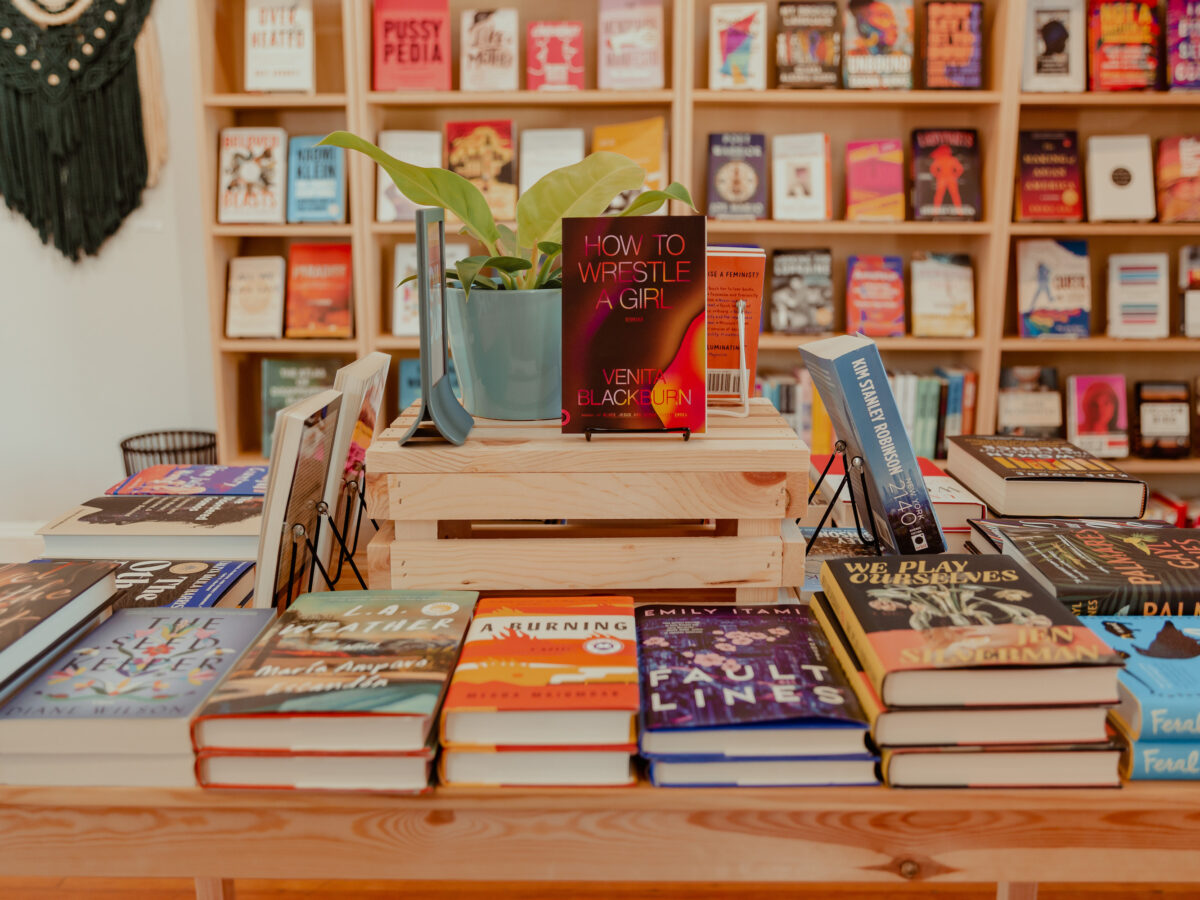 So, what is intersectional feminism?
This was the most common question Dougherty received from early customers familiar with feminism in its basic form. In short, intersectional feminism recognizes how women's overlapping identities—which include factors of race, age, class, ethnicity, religion and sexual orientation—can impact barriers to gender equality.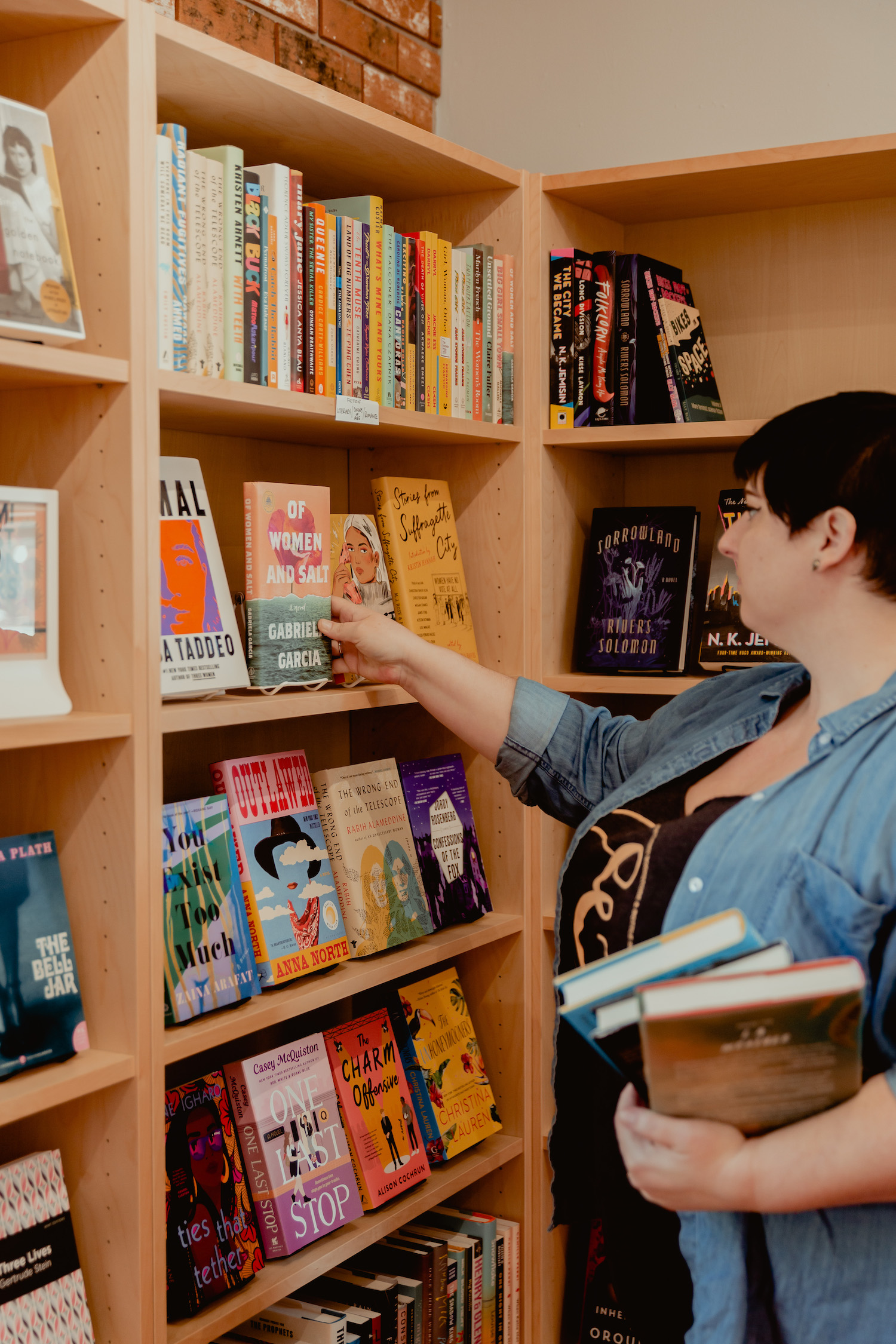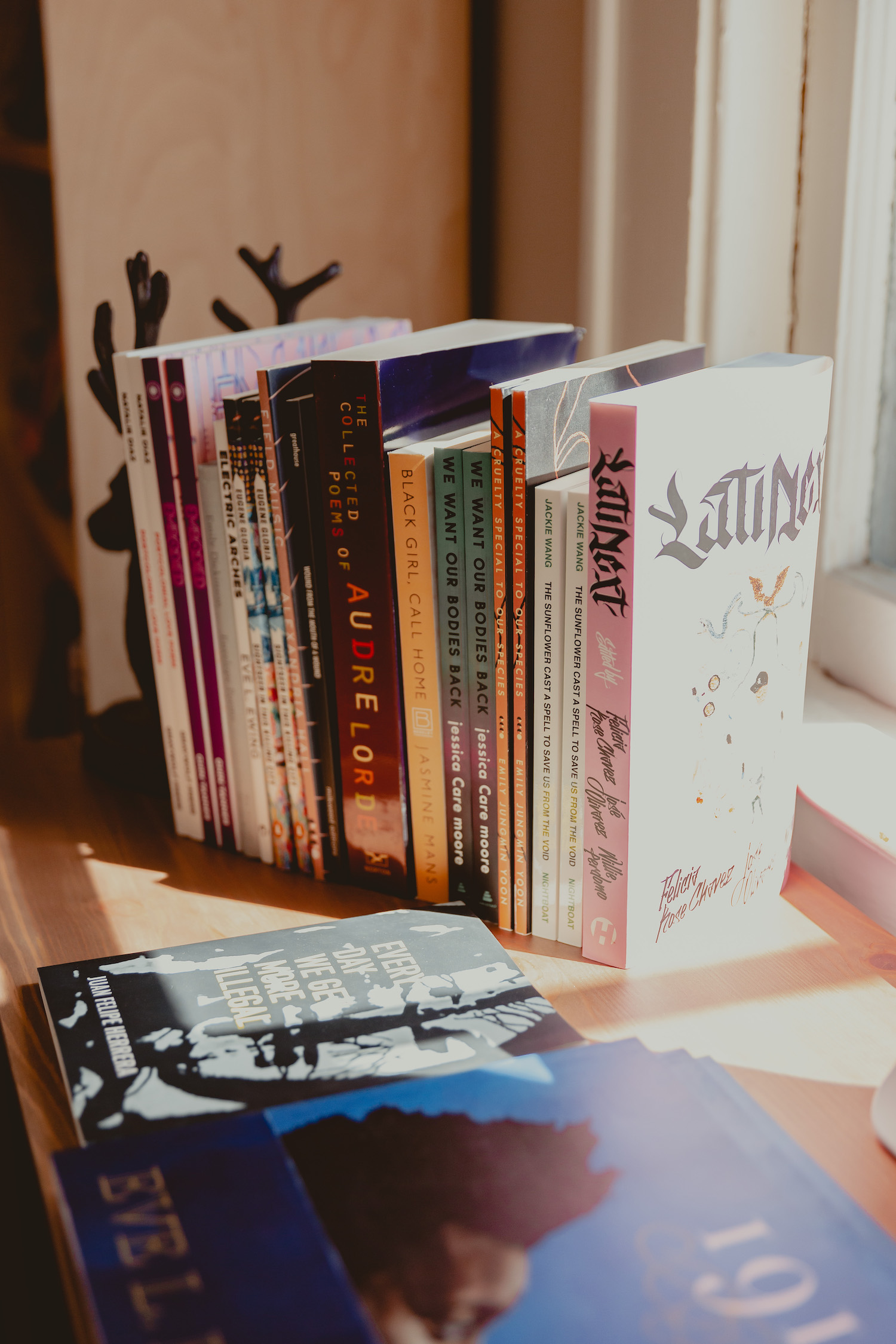 The books at Eleanor's are carefully curated and fall into an expansive list of genres not found at most mainstream bookstores: race and racism, movement building, indigenous studies and histories, damn the man, feminist lit, disability justice, and parenting for liberation, just to name a few. Plus, there's an extensive kids' and young adult section.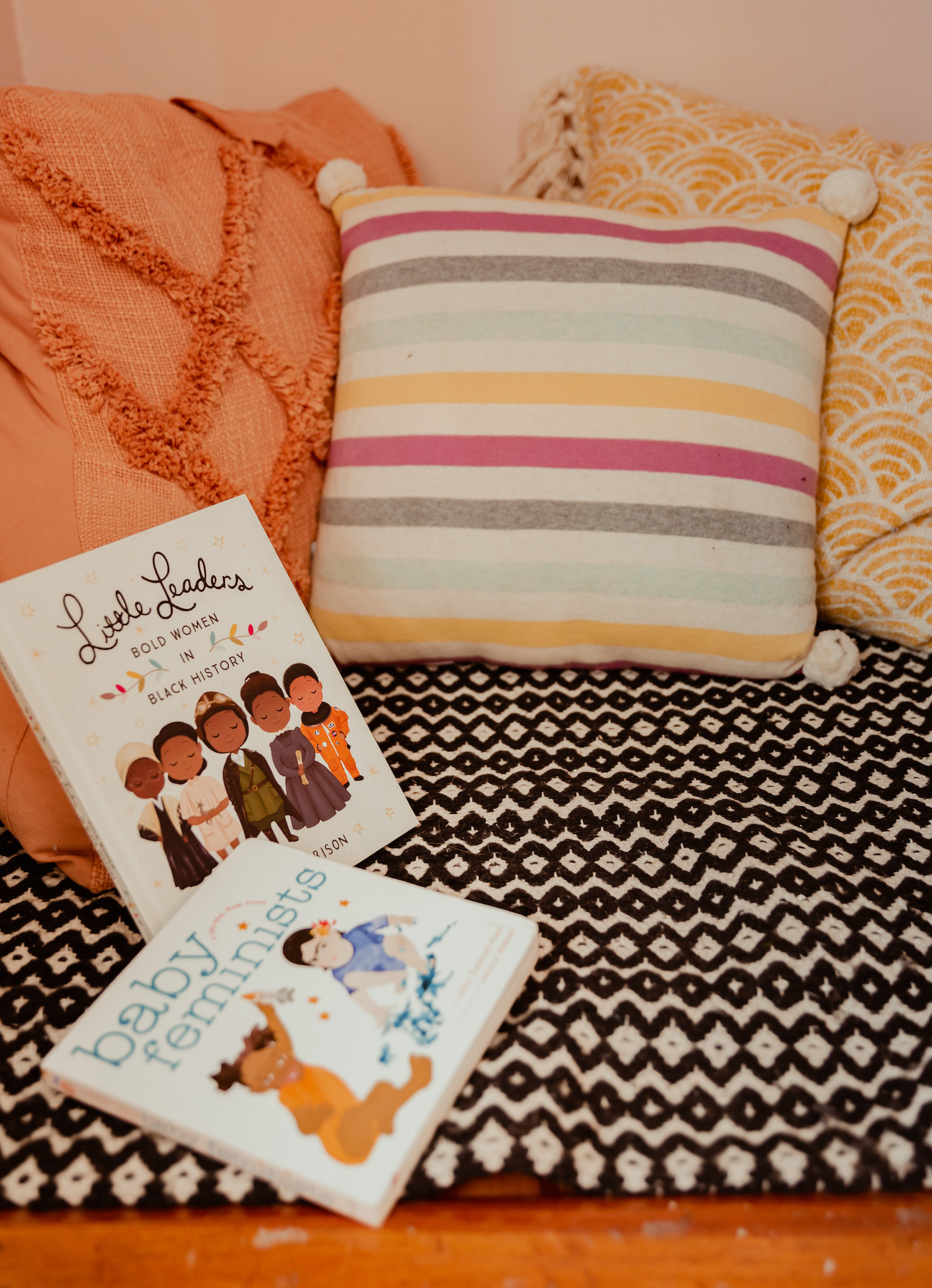 With all the authors, titles and genres to choose from, how did Dougherty go about curating this diverse selection of books? "I read a lot of reviews, articles and books. I listened to a lot of interviews and podcasts of people who know more than me," she shares. "It's just like any other curation you would do where you seek out sources you can trust and people that you share similar ideas or values with and go from there."
The Bottles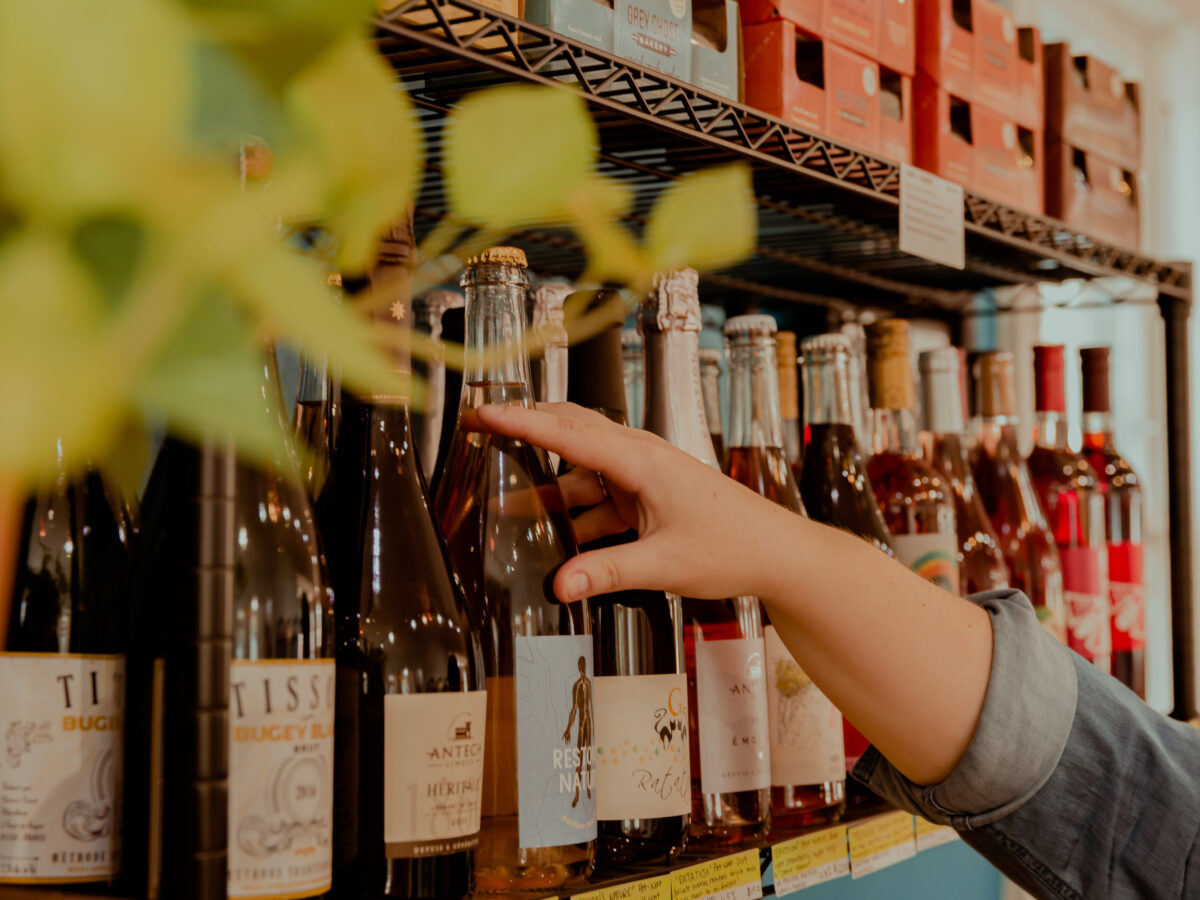 Dougherty's experience in the craft beer world had led her to appreciate the "community that food and drink brings, that ability to sit and be together," which she wanted to incorporate into the store's concept.
Eleanor's offering of bottles (wine, beer, cider and mead) is also carefully curated to reflect the store's values of diversity and sustainability. The selection is focused on natural wines from makers who farm sustainably and organically and produce biodynamically. "And people who give back to their community," Dougherty adds.
Patrons can't imbibe on site (unless it's part of a special tasting event), but they can buy bottles to enjoy elsewhere.
Bottle tasting events each come with their own focus. For instance, for a climate in wine series, they'll discuss a particular region, what's happening in that region, what the producers are doing and how it's changing the landscape. A past Galentine's tasting featured Richmond-based Triple Crossing, which has the largest number of female brewers.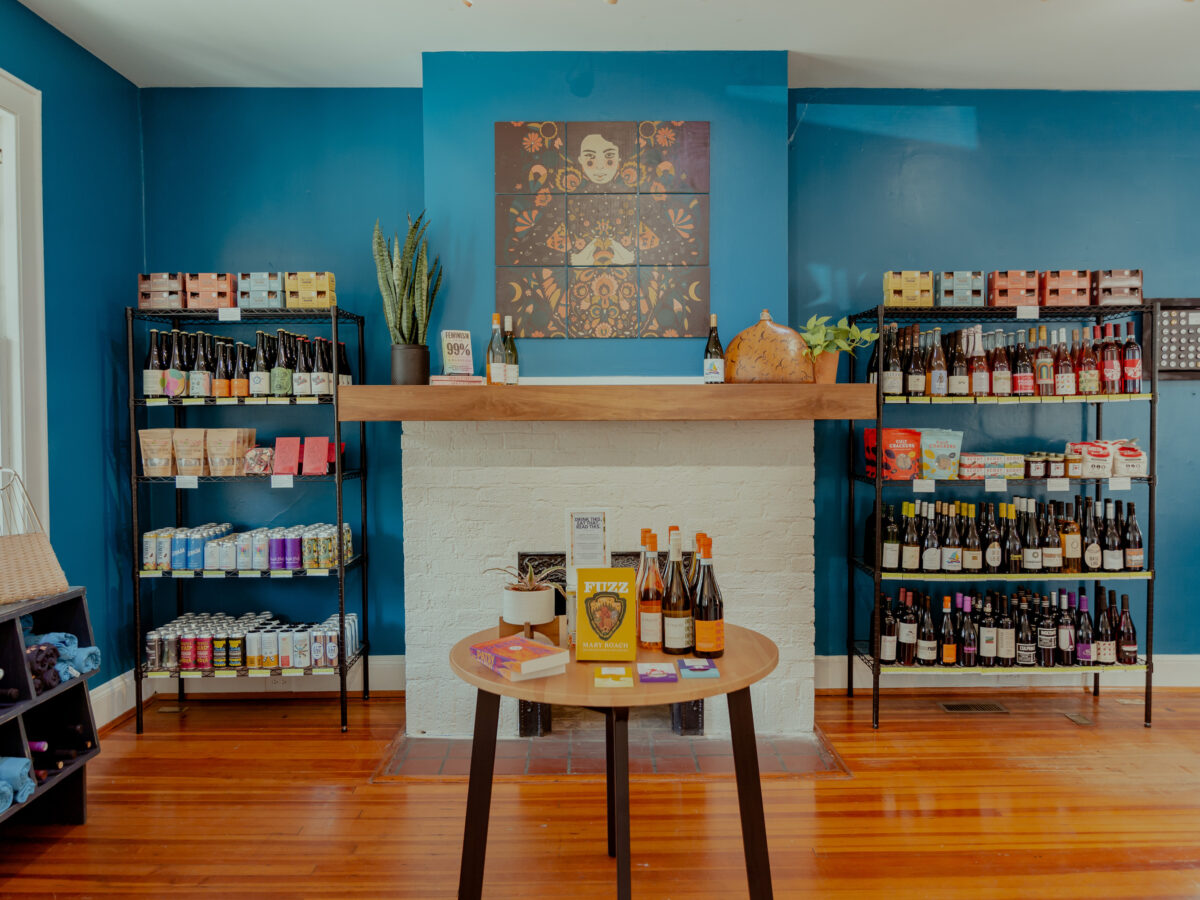 The Events
In addition to monthly and bimonthly book clubs, Eleanor's hosts a variety of events such as Slow Flow Yoga and Wine Tasting in partnership with Sky's the Limit Yoga; Queer Yoga with Bhav Brigage, a grassroots platform that brings affordable, accessible, philanthropic yoga and wellness out in the community; and a Queer Writers Meet-Up in partnership with The Muse Writers Center.
Dougherty also organizes events outside of Eleanor's, like the Boozy Book Fair at Reaver Beach Brewing Co. in 2022. She's working to organize a Hampton Roads Bookstore Crawl for Independent Bookstore Day in April. Participants can pick up a small passport at whichever participating location, and from there, they will have a week to visit as many of the bookstores on the passport as possible. "It's really about getting out of your comfort zone, going into some of those places where you've never been or just don't know about," she says. "We have a good literary community."
The Community Activism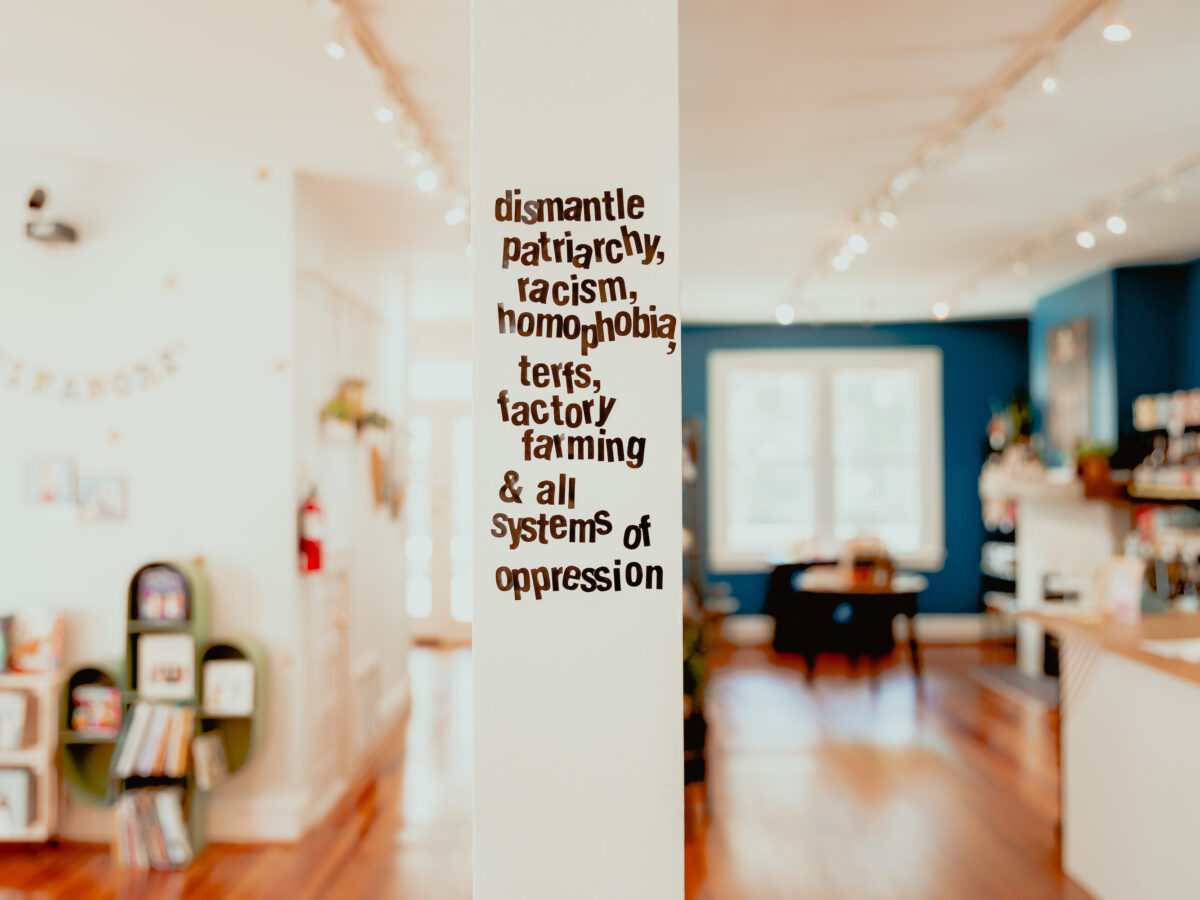 Along with being a radical neighborhood bookstore and bottle shop, Eleanor's acts as a safe space for community activism, engagement and learning—the main reason Dougherty wanted to open a place like Eleanor's.
"If you're an adult human, it's so hard to find other people who share similar ideals or ideas or are open to talking about them," she reflects. "I do think it's important that we have a space where people can dream and scheme and find accomplices outside of everyday social circles. You have to broaden, be a little bigger if you want to make the impact that we know we can make and that we know everybody deserves."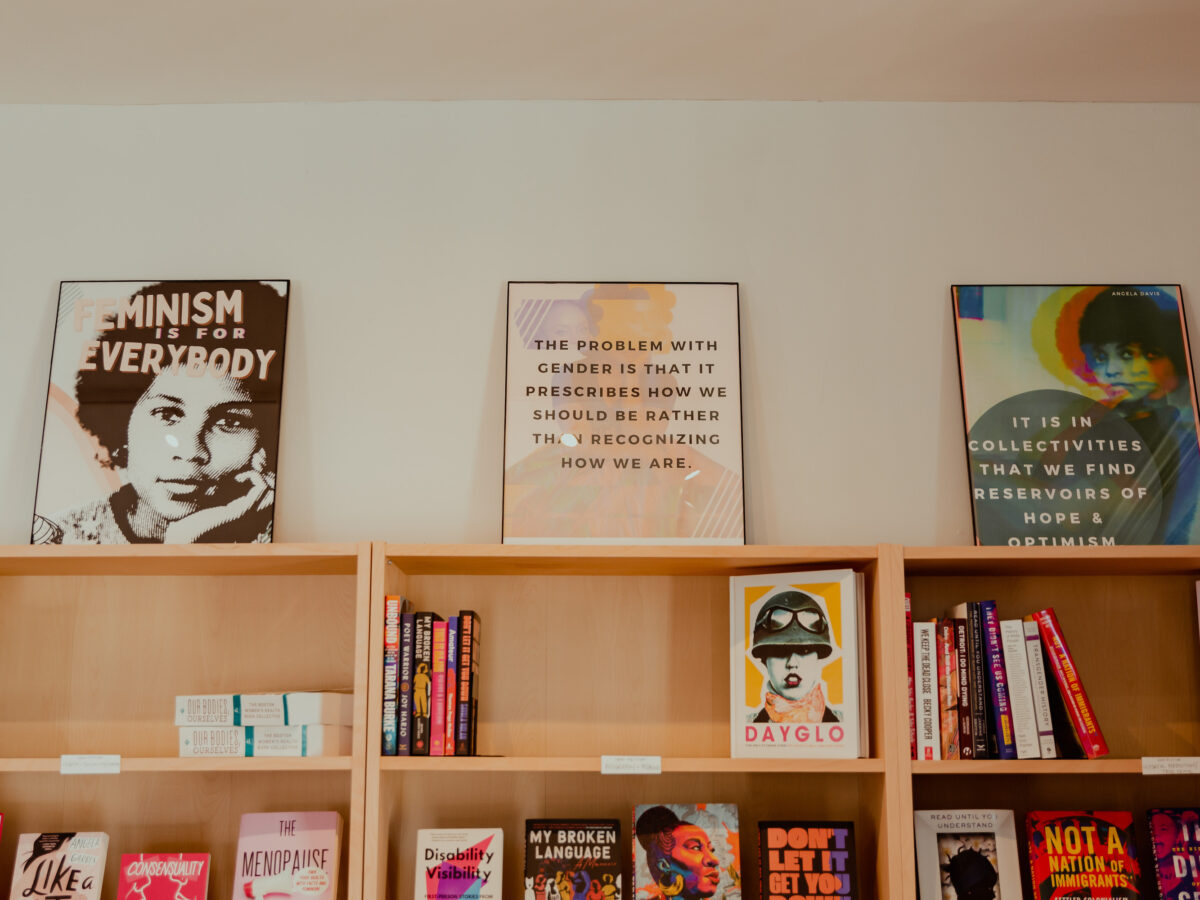 Out of the community activism space started the Hampton Roads Mutual Aid Network, a group of local do-gooders focused on building community based on the principles of mutual aid and solidarity. Dougherty co-founded this network with several nonprofits in the region including the Hampton Roads Reproductive Justice League, Humanities Behind Bars and 757 Community Fridges (whom Dougherty worked with to establish a hygiene pantry outside of Eleanor's).
"Really just building community is the focus of it," she explains. "Yes, how can we help people who are in need, but also how can we live together in a more open way?" The more people she met, the more she realized the value of helping to connect organizations and work together for good. "We were so siloed," she explains. "Some of them were already working together, but some of them weren't."
From what started as feelings of "What can I do?" Dougherty says that after starting Eleanor's and connecting with other organizations, she feels way less hopeless.
"I'm glad it's happening in Norfolk," she says. "There's so many good people in Norfolk who want the world to be better and want us all to be able to live happily. I think that's really special."