Imagine taking that first glorious sip of morning coffee as you gaze out on Norfolk's sparkling Elizabeth River. Embrace the warm notes of a honey cinnamon latte as you watch busy tugboats and perhaps even a pod of dolphins swimming by. Good news: It's not just your imagination. This scenario plays out five days a week at Neptune's Fury Coffee Co.
Located on the first floor of Norfolk's Dominion Tower, Neptune's Fury overlooks the Elizabeth River Trail and, just beyond that, the Elizabeth River itself. It's the only waterfront coffee shop in the region, and it's worth stopping in for the views and the brews.
How It Started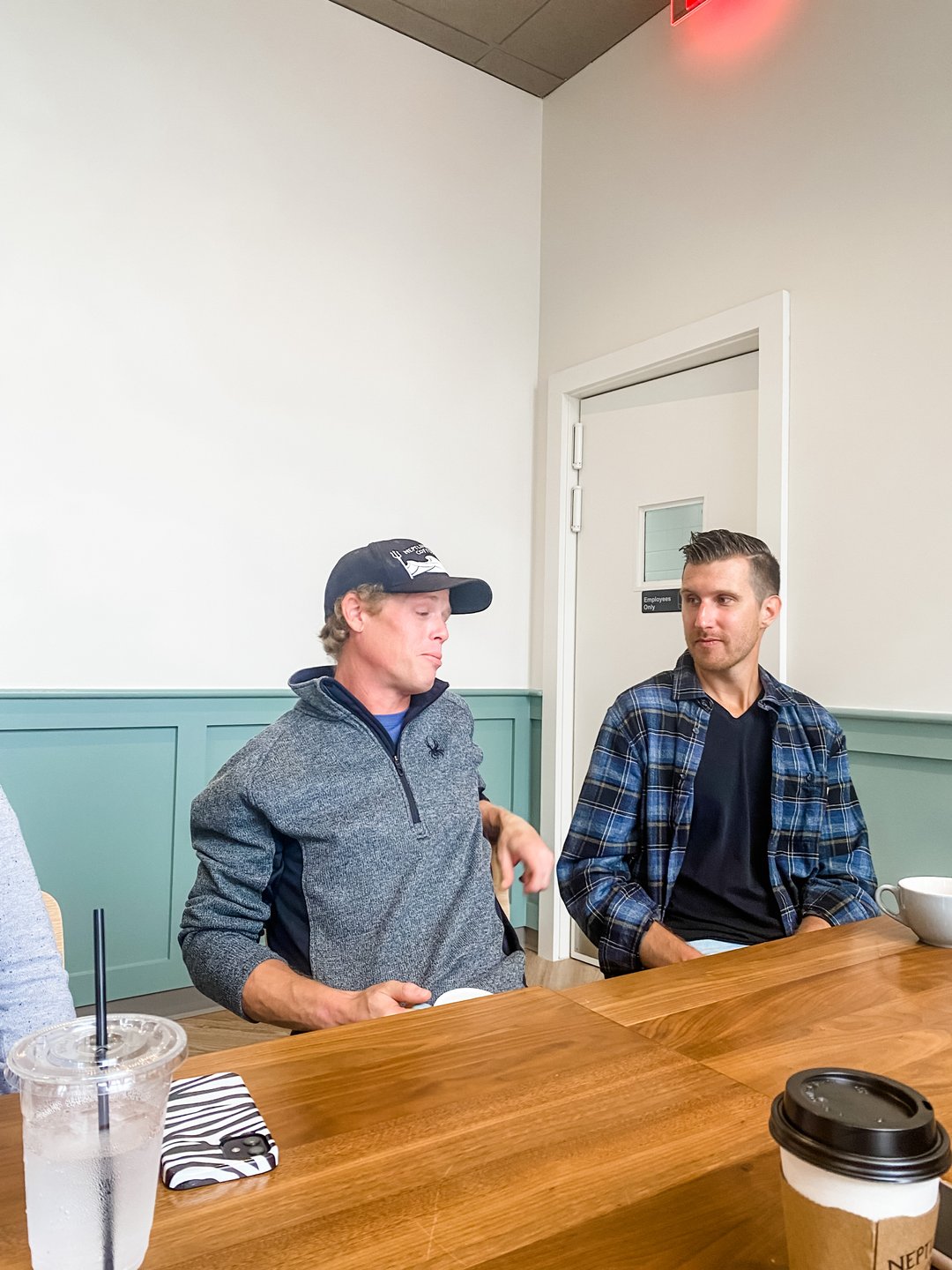 In 2018, two friends Jason Walker and Matt Rose began a hobby of roasting coffee in a Virginia Beach garage. As any parent can attest to, "We needed more coffee after we both had our first kids," laughs Walker. But it wasn't just an average cup of joe that they had their sights on. The two developed a passion and curiosity for specialty coffee, along with the process it takes to craft it.
With zero experience in roasting or brewing specialty coffee, they purchased their first roaster from an award-winning roastery in Philadelphia. "We kind of got into it backwards," Rose reflects. The self-proclaimed serial hobbyists found themselves bouncing from project to project until they found something that stuck.
Even this particular hobby took a while to stick. "There was a lot of bad coffee leading up to what we have now," Walker admits. With practice, they found a process that worked and captured the interest of friends, family and neighbors who enjoyed drinking the coffee. In that way, the hobby was rewarding, but still, Rose says, "We didn't expect for it to be a business."
That all changed a year into roasting when the duo came across another coffee roaster for sale. This one was six times the size of their original purchase and came with a whopping 600 pounds of coffee. "That's when we realized we'd have to start selling," Walker remembers.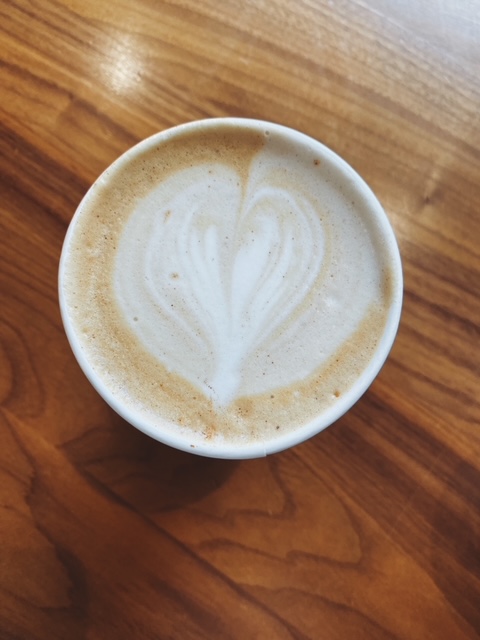 They branded their business Neptune's Fury after a 1600s sea shanty and began peddling coffee beans at the Old Beach Farmers Market in nearby Virginia Beach. This experience allowed them to connect with a captive local audience as well as visitors during the summertime. Soon they began setting up at the Ghent Farmers Market to build a Norfolk following.
Eventually, Rose and Walker felt prepared to expand their business from weekly farmers' markets to a full-on coffee shop. A friend alerted them to the available 4,000-square-foot space within Downtown Norfolk's Dominion Tower, and when Rose first laid eyes on the esteemed water view, he remembers thinking, "You've got to be kidding me."
How It's Going
Inside Neptune's Fury, customers will find a bright and airy locale to sip locally roasted coffee with unprecedented water scenes just beyond the Elizabeth River Trail. The wrap-around counter features cool blue waves leading to a cafe area where walls of windows grant unobtrusive views of Norfolk's bustling harbor.
At the counter, you'll find all your favorite beverages—lattes, cappuccinos, Americanos, espressos and more, brewed to perfection with their locally roasted beans.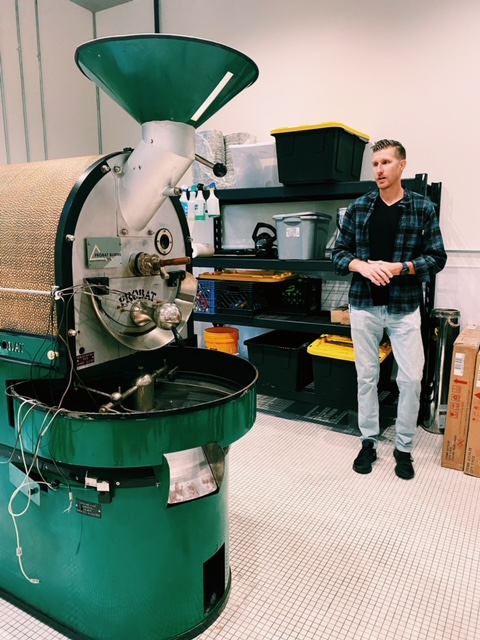 While most of their coffee is roasted light to medium, Rose and Walker enjoy developing different profiles as well as roasting new origins and green processing styles. The majority of their beans come from Colombia, Central America, Ethiopia and Brazil. Their aim is to purchase as directly from coffee farmers as possible to promote fair trade standards. Customers can purchase 12-ounce bags of Neptune's coffee beans, as well as cold brew packs to enjoy at home.
Fun Fact: Neptune's decaf coffee is featured in the coffee flavored ice cream of regionally-based Lolly's Creamery.
Rose and Walker partnered with Virginia Pie Shop, a local artisanal bakery, to offer a variety of cookies, scones and other baked goods to accompany a fine cup of coffee. For a more savory option, they offer regionally made BagelNUTZ—cream cheese-filled miniature balls of bagel dough topped with a variety of flavors like blueberry, cinnamon almond, chive and everything.
There's also a retail grab-and-go up front to purchase refreshing beverages like kombucha, Jarritos sodas, Crunchy Hydration drinks, Polar seltzers and coconut water. Snacks like granola bars and biscotti are additional on-the-go options. You'll also find Neptune's Fury T-shirts and tote bags to further support this burgeoning coffee business. A self-order kiosk makes grabbing and going truly a breeze.
Future plans for the Fury include lunch options of pizza and flatbread rolling out in early 2023. They also aim to offer educational coffee-themed events to spark new interest in coffee connoisseurs.
Neptune's Fury is an ideal spot for working while caffeinating or meeting up with friends. It's also great for hosting meetings as the interior space can fit approximately 100 guests, with even more options outside. So, bring a friend (or bring a hundred of them) and come see what the Fury is all about.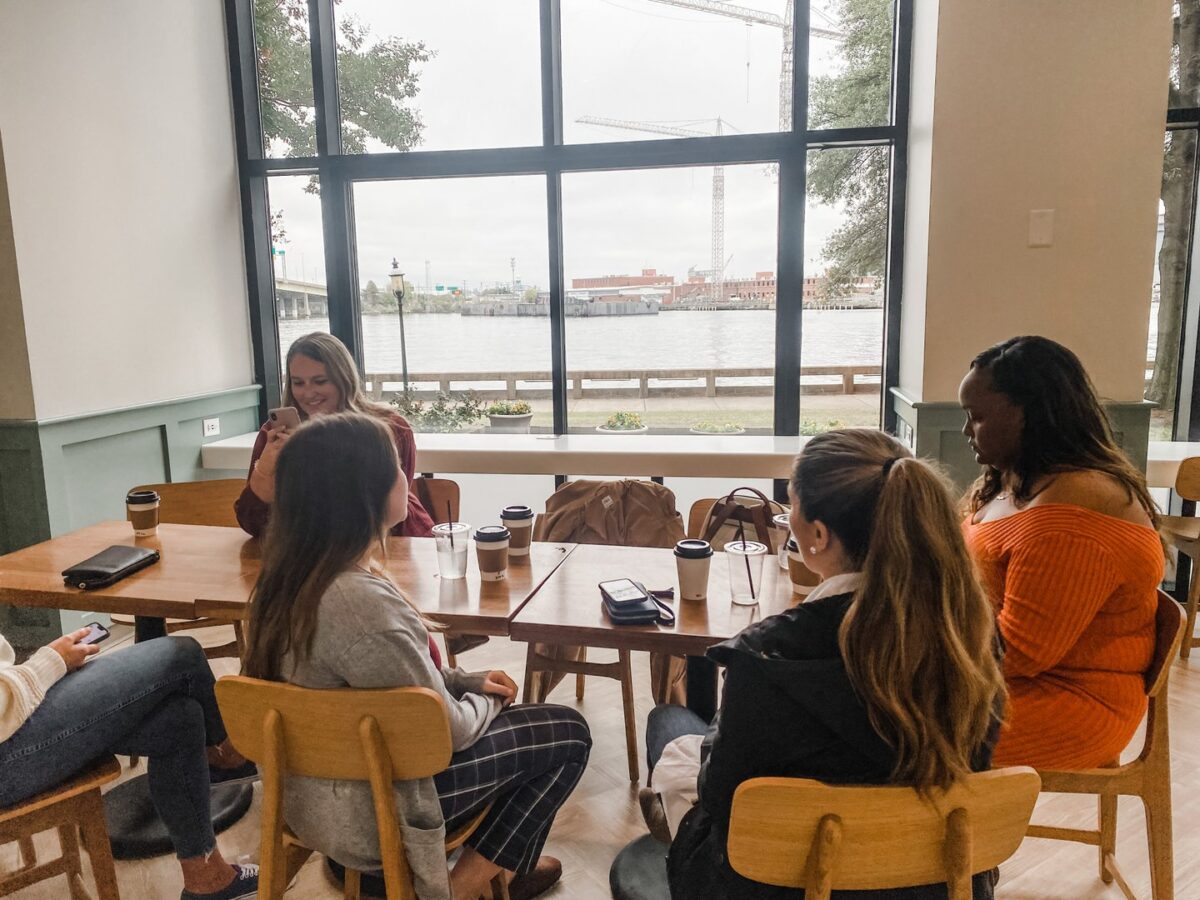 Neptune's Fury is located at 999 Waterside Drive, Norfolk next to the Sheraton Hotel. Their hours are Monday–Friday, 7:30 a.m.–2:30 p.m. Parking can be validated for up to two hours for Neptune's Fury customers.