Norfolk traces its tales back to the early 17th century, soon after the first English settlers arrived in the new world. Since then, the city has seen its fair share of history (and even some haunts too). Want to learn about some of Norfolk's eerie legends? Read about some below, and then get the full experience of visiting historic haunts and hearing the stories firsthand during one of Norfolk Tour Company's Haunted Tours.
The famous battleship, largest ever operated by the U.S. Navy, is now a museum in Downtown Norfolk, a symbol of the city's proud naval history. But one crew member has apparently stayed behind when all others left. He was working on the air conditioning system during an overhaul during the Korean War when someone turned on the unit, ending his life. Among the reports of his presence on the ship is testimony from a quartermaster 2nd class serving on board during Operation Desert Storm. Included in his report is this: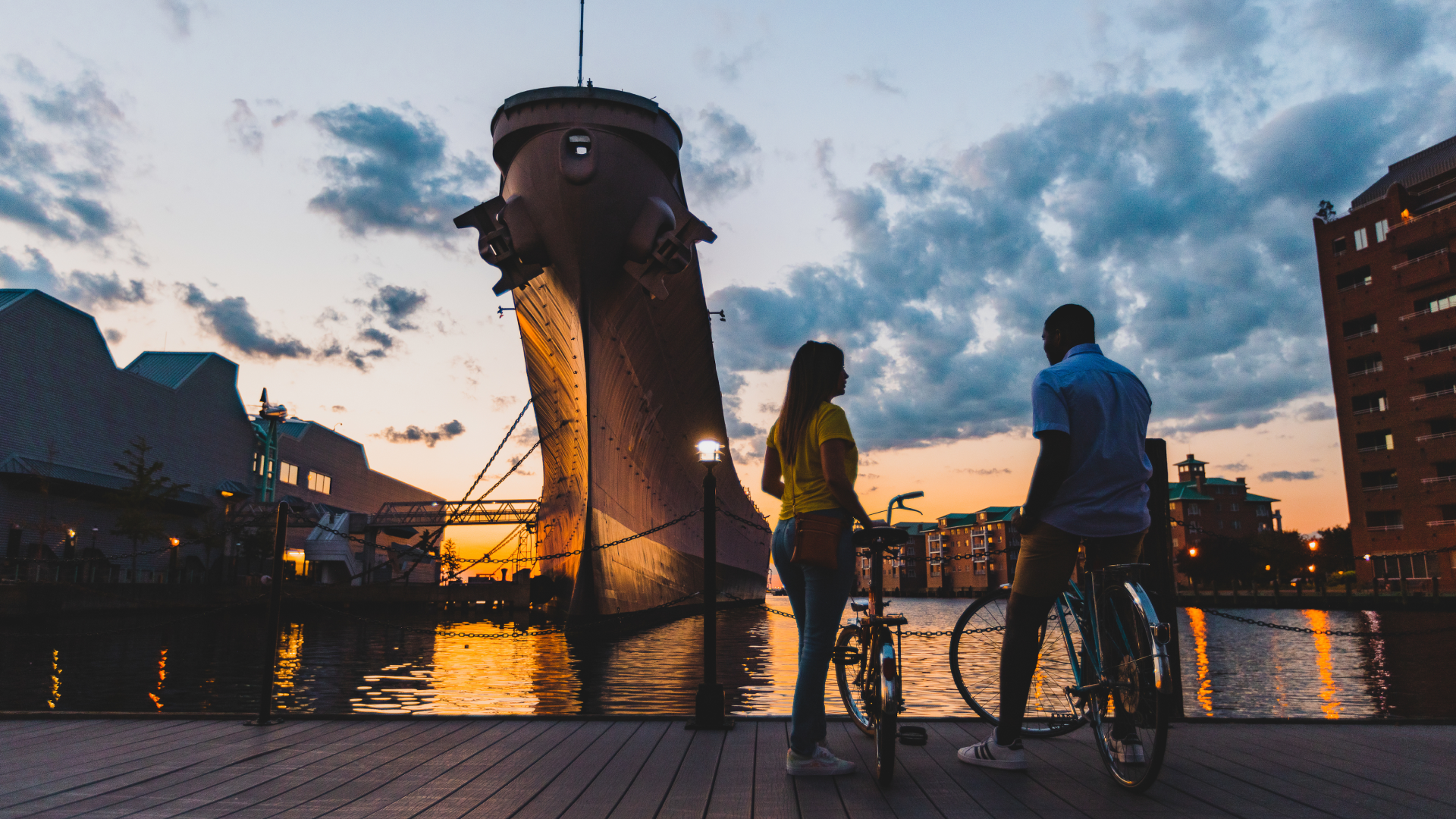 "I'm walking past the Harpoon launchers [port side] and you get that feeling that you're being watched. That there's somebody behind you. So, I turn around thinking it's the aft lookout coming to me for something, so I stop and turn around and look and there's this bright, white, wispy shadow there behind me. Now, it's the midwatch and there was no moon that night. It was pitch black. You couldn't see your hand in front of your face it was so black. And there is now this billowy, white, shadowy sort of thing floating behind me. It sort of freaked me out. The story about the electrician—at the time I didn't know, but I went "OK, that's enough of that'—I turn around and start making my way forward and boom—there it is again right in front of me. And this billowy, white, shadowy thing is right in front of me, so I turn around and walked aft again towards the aft lookout and there it is again, behind me. So this time, I turn around and facing forward, I just took off running as fast as I can, back forward."
One of Norfolk's long loved restaurants, Freemason Abbey was originally a church built in 1873 in the city's Freemason neighborhood. There have been numerous paranormal accounts, particularly in the kitchen and bar area where items move around, sometimes falling off shelves, cupboards open on their own, and doors either won't not stay open or closed. There are also those who claim to have seen a dark wandering figure and the sound of a woman weeping. And to this day, employees still end the evenings by saying "Goodnight, Mr. B," a nod to a former owner of the restaurant who apparently still takes smoke breaks in the dry goods storeroom long after he has passed.​
The Ghost of Willoughby Spit
Along the beach of Willoughby Spit, there are countless stories of ghosts, which are usually intertwined with lost loves and those waiting for their return. One local legend is of a man who yearns to keep us safe. It is said that this ghost only appears as an omen that a hurricane is near. Stories of a mysterious dark figure on the beach were reported just before Hurricane Isabel in 2003.​
Please note: The stories depicted here have been gleaned from shared accounts, postings and collected news features. These stories have not been validated for accuracy in all cases and are meant to be shared for entertainment purposes only.