Breweries have become beloved neighborhood pubs, and lucky for us, Norfolk's brewery scene has taken off! With multiple breweries in Norfolk, each serving up something a little different, there's a brew to match every mood. Here's a guide to exploring the breweries in Norfolk.
The newest brewery to hit Norfolk's sipping scene, Afterglow is a fun, family-friendly/pet-friendly brewery crafting delicious beers and seltzers in all styles. They brew with state-of-the-art BrewHa equipment from Canada and are the first brewery to use this system in the state of Virginia. They also pride themselves on recycling their used grain to local farmers in the Hampton Roads area. Check them out in Norfolk's up-and-coming Railyard.
Their slogan, "there's always something brewing at COVA…" not only refers to the frothy liquids that fill their fermenters but also their tasty craft coffees. Coffeehouse by day and brewery at night, COVA has mastered quenching thirsts no matter the time of day. What's truly unique is that you can pour your own beer with their self serve taps from copper handles, chosen for their antibacterial properties.
What goes better with beer than pizza? Not much, especially considering it's Bakehouse pizza. A trusty staple for crusty breads and pizzas, the Bakehouse at Chelsea opened in 2014 and built a following of customers impressed by their high quality, fresh, organic baked goods. Now the Bakehouse at Elation provides those same elements to wow crowds in a brand new atmosphere, with beer as the best pairing ever.
Now let's talk beer. They are known for their unmatched IPAs like Hoptopus and their incomparable sours like the Red Messenger. Their Hoptopus collection is a crowd pleaser, and they offer six variants of this hoppy IPA year-round. Another staple is their Tidal Wave, an American Wild Ale that is brewed using a coolship and fermented spontaneously by microflora native to our Coastal Virginia home. Similar to other breweries, Reaver Beach is dog-friendly (inside and out), hosts live music and rotates a lineup of food trucks outside on their patio.
Picnic tables and board games fill the brewery with a mural of coastal waterways paying tribute to the owners' Coast Guard roots.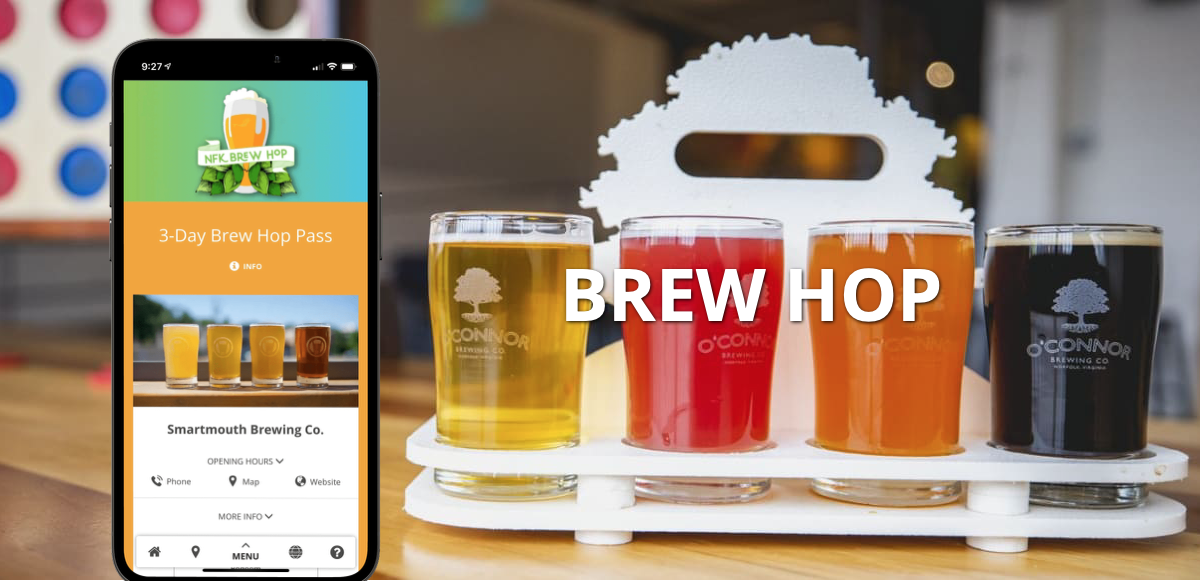 Sip your way through Norfolk with our Brew Hop pass, which makes it easier than ever to explore the local craft beer scene. Passes are delivered through text and email and are instantly redeemable!