It's always a good time of year for running, and Norfolk has some great areas to trot. If you're simply running for fun and fitness, the city's charming neighborhoods, Norfolk Botanical Garden or the Elizabeth River Trail provide some ideal pathways and scenic views. Once you feel ready to sign up for an event, we've got you covered. Here are some upcoming 5K, 10K and even half marathon events during Norfolk's most enjoyable running seasons taking place in the city's most unique neighborhoods. There's even some shorter-distance trots for those young runners. So, gather the whole family or a great group of friends, and sign up for these 2023 Norfolk runs.
Inaugural Mermaid Series
May 6 and June 3, 2023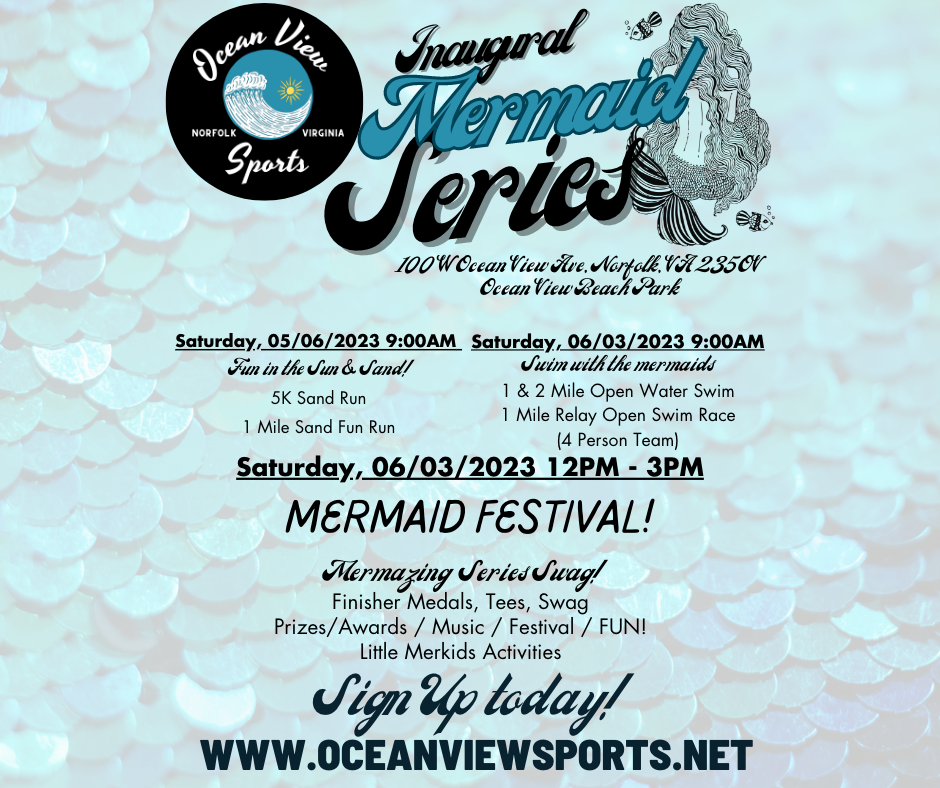 Ocean View Sports presents the inaugural Mermaid Series Run, Swim and Mermaid Festival! The series starts Saturday, May 6, 2023 with a 5K and 1-Mile Sand Run/Walk at Ocean View Beach Park!
The second installment of the series will be on Saturday, June 3, 2023, also at Ocean View Beach Park in the heart of Ocean View! Register for the 1- and 2-mile open water swim or 1-mile open water relay swim with teams of four, and stay afterward for the inaugural Mermaid Festival celebrating our Norfolk mermaid with a costume contest, photos with mermaids and mermen, lots of fun activities for the merkids, vendors and more!
Step Up for The Up Center
May 13, 2023
This is the region's only stair-climbing event held at Harbor Park Stadium in Downtown Norfolk. The Up Center is a local nonprofit fueling critical services for 10,000 children, families and people with disabilities across the region each year. Come climb the steps for this fun, timed event.
ADP Corporate 5K
June 20, 2023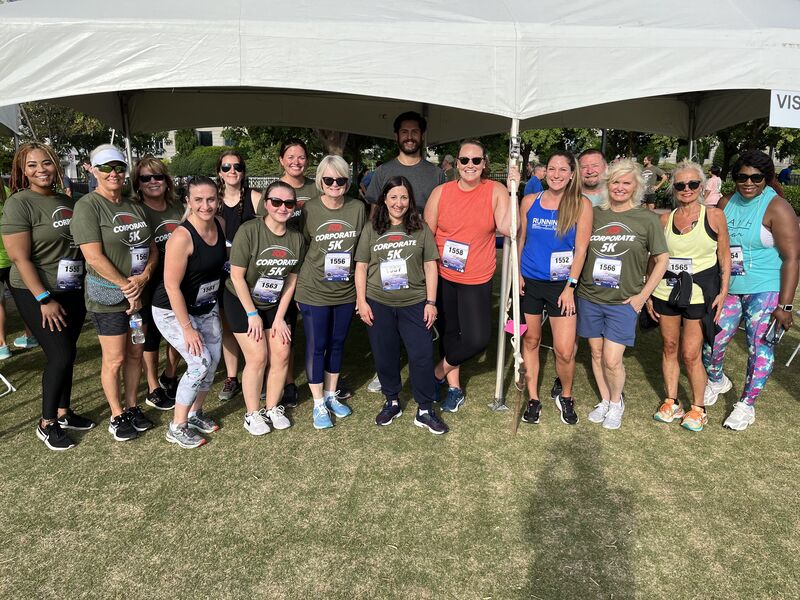 This exclusive event for the Hampton Roads corporate community welcomes employees of any company to form a team and participate in the ADP Corporate 5K. After finishing an enjoyable 5K through Downtown Norfolk, participants can join a post-race office party complete with cold beverages, food, live music and more.
Aug. 12, 2023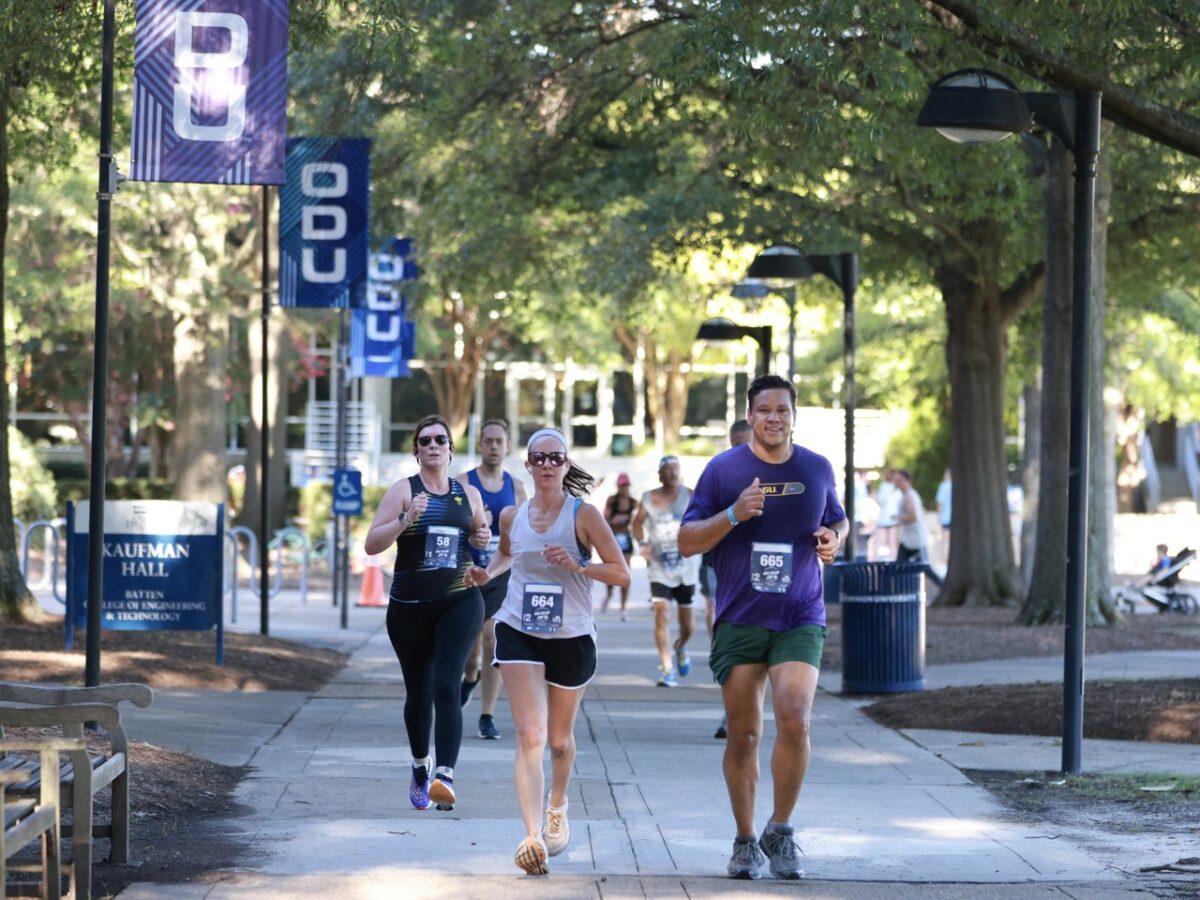 Show your Monarch pride in this popular trot around Old Dominion University's campus. A 5K kicks off the event, followed by a Kids' 1K. The event concludes with a fabulous tailgate party featuring cold drinks, live music and food.
September 3, 2023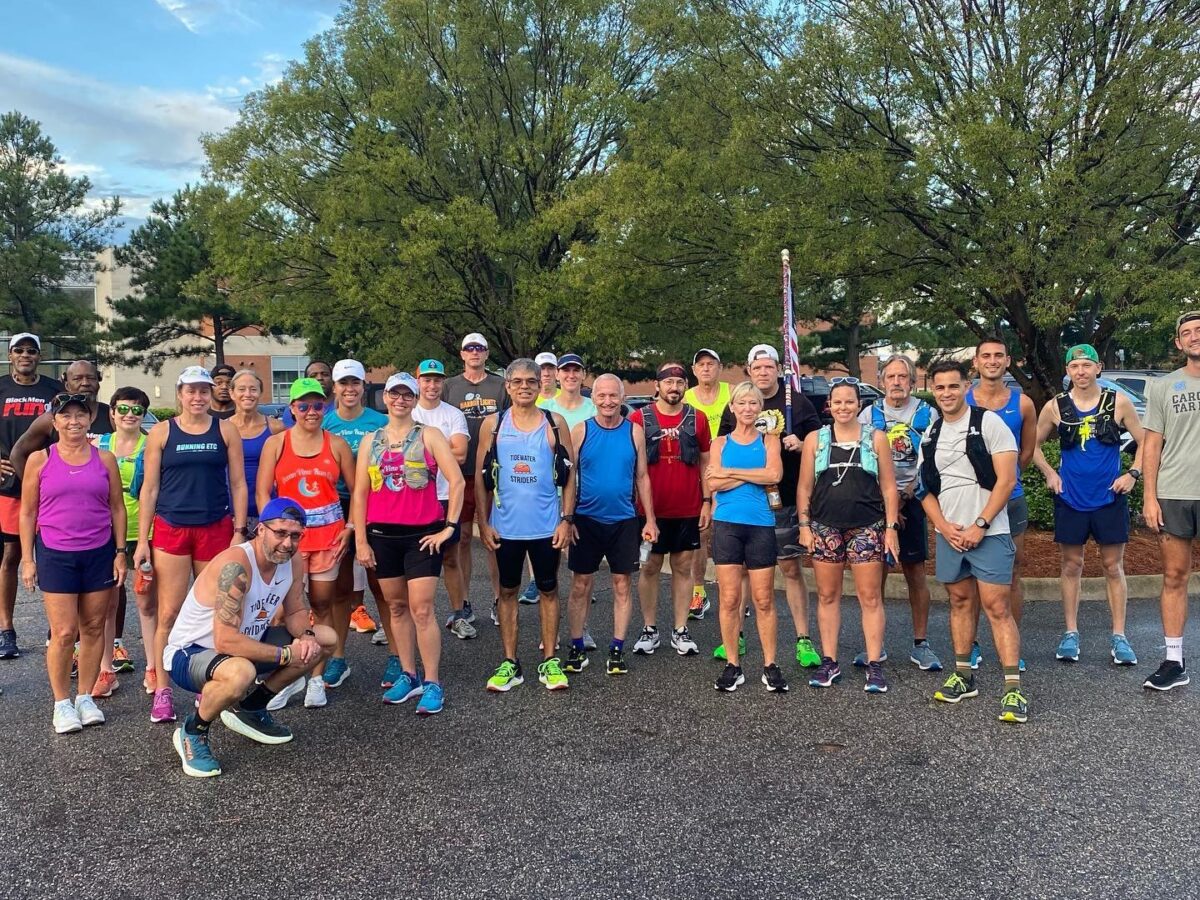 This 10K takes place on a flat and fast point-to-point course starting at ODU, running around campus, then heading north on the Elizabeth River Trail through gorgeous, historic, tree-lined neighborhoods along the waterfront. Then you'll trot over the Hampton Boulevard Bridge with sweeping views of the Elizabeth and Lafayette Rivers and finish in a verdant, private park at the Port of Virginia. This event benefits the Elizabeth River Trail Foundation, with a mission aimed at enhancing and activating the trail, making it safer and more beautiful for runners, cyclists and pedestrians alike.
October 14–15, 2023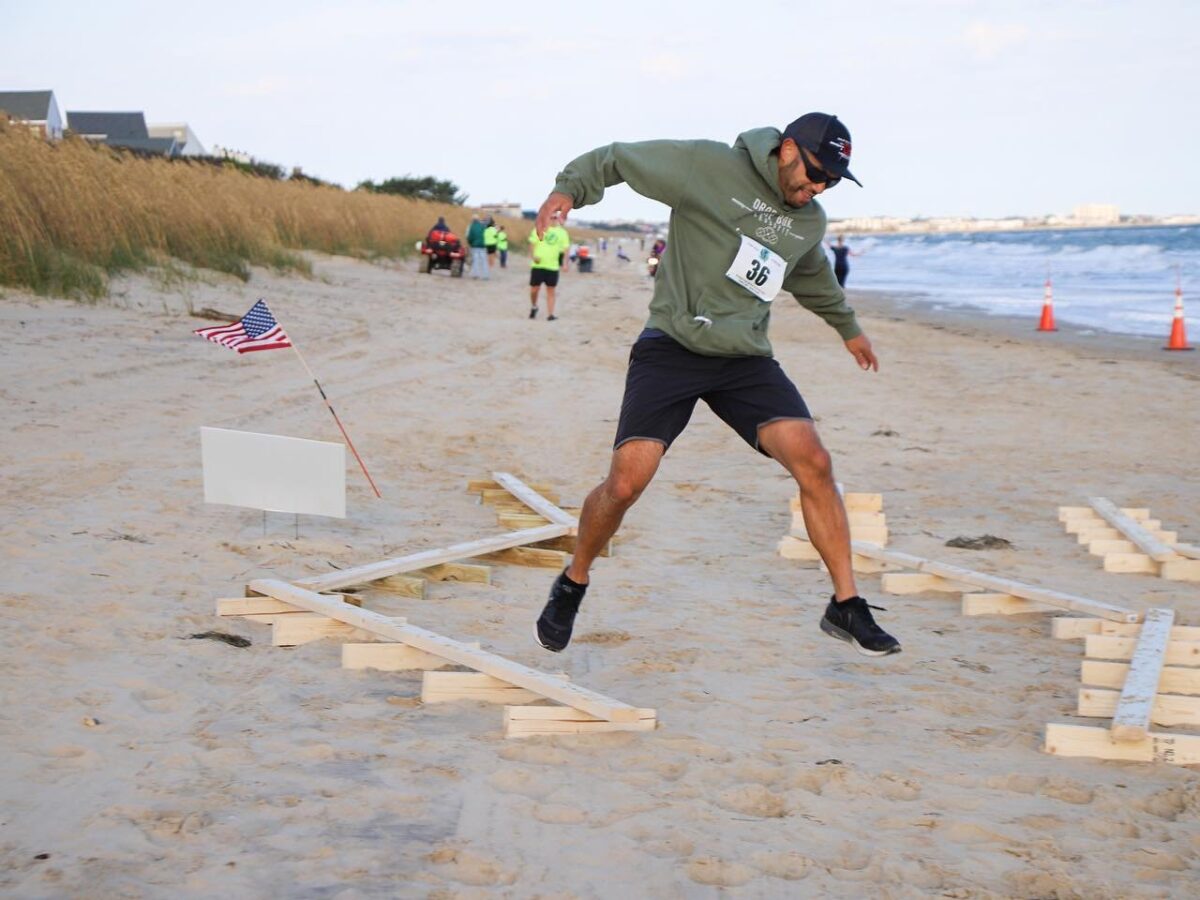 Head to Ocean View for a blissful fall run in Norfolk's beloved beach community. Sign up for the Storm the Bay Half Marathon, Storm the Bay 5K Challenge or Storm the Bay 10K. There's also a Mermaid Mile Fun Run for kids 12 and under. If you have what it takes, register for the OV-OG Challenge (the 5K and 10K back-to-back) or The Top Gun Challenge (the 5K and 10K back to back on Saturday, then the Half Marathon on Sunday).
November 18–19, 2023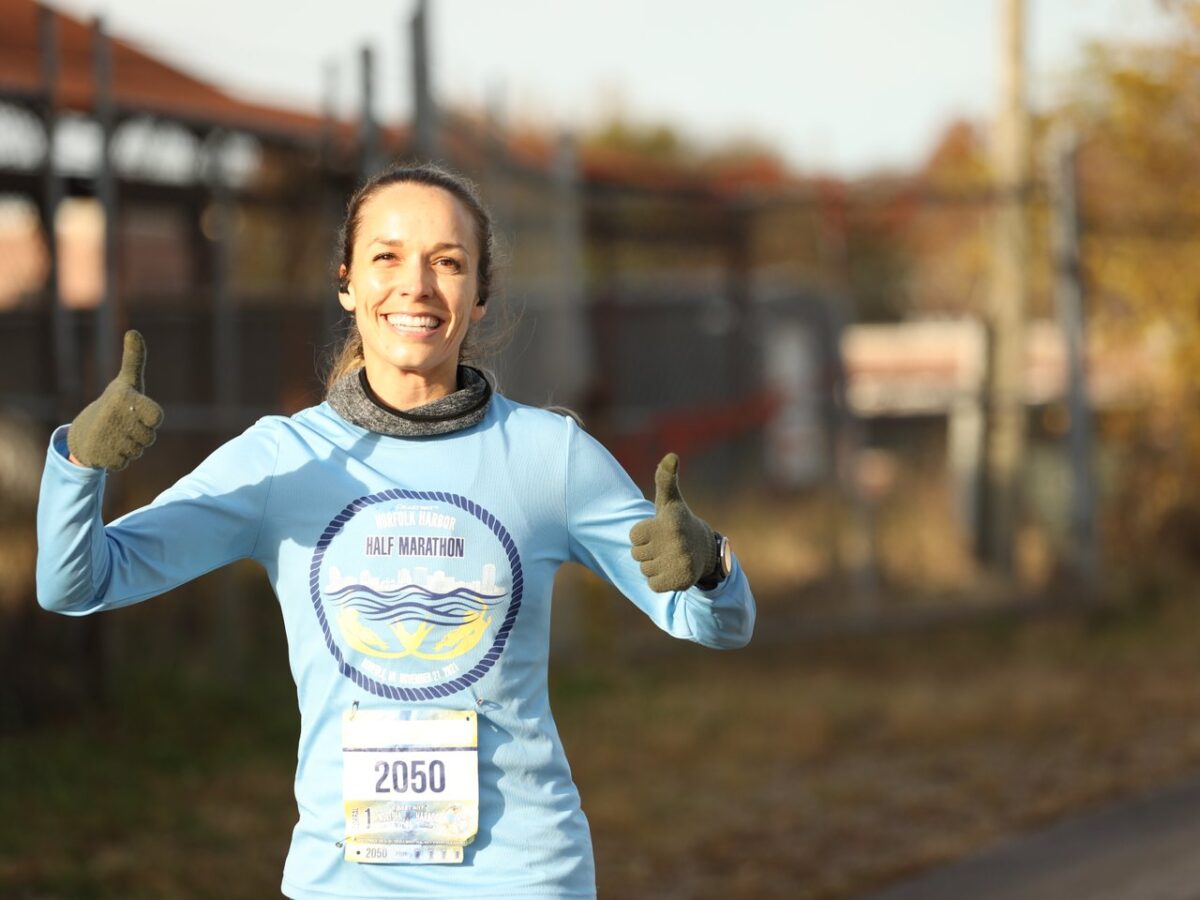 Enjoy Norfolk's Downtown, thriving art community, historic neighborhoods and ODU's campus as you take on the 5K, 10K or Half Marathon. Keep an eye out for Norfolk's iconic mermaids along the course as you experience this flat, fast course (Hint: There are over 20 mermaids along the Half Marathon course!). Additional options for race weekend include the Get Nauti Challenge (a 5K on Saturday and the Half Marathon on Sunday) or the Nauti Lite Challenge (a 5K on Saturday and the 10K on Sunday). There's also a Kids Mile for young runners.
December 2023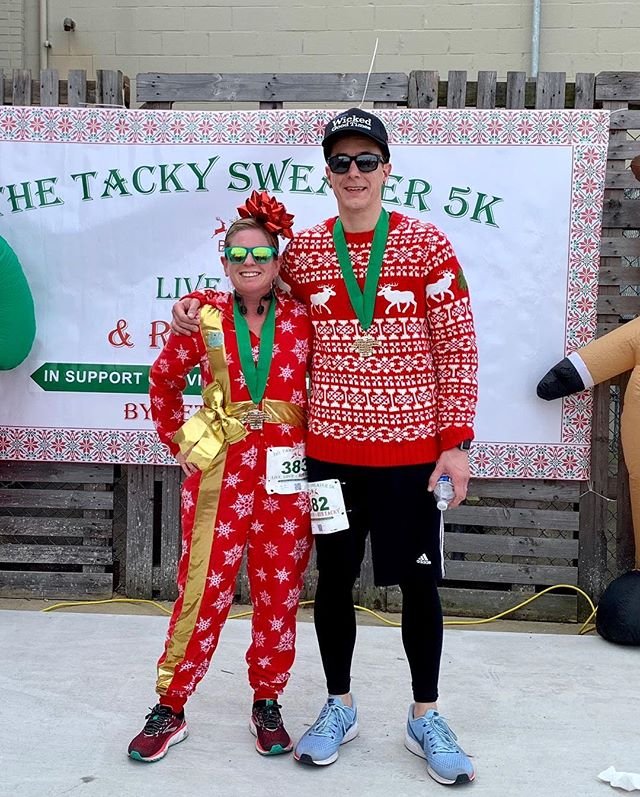 If you're going to run in December, you might as well don a tacky sweater while doing it. This festive holiday run features a 5K run and walk. The event aims to raise awareness about melanoma and supports EVMS' Dermatology and the Dermatology Student Group. The course begins and finishes in front of Smartmouth Brewing Co. in Chelsea, and much of the route is along the scenic Elizabeth River Trail. Afterward, there's a tacky sweater competition and a post-race party at Smartmouth Brewing Co. with food, drinks, a live DJ, finisher medals, custom age group awards and more.