Norfolk has the largest collection of free public glass art in the world! Find everything from museums to galleries and even glass-themed hotels that have glass art within our city. After your glass art exploration, we hope you appreciate the art medium that captures the dance of light and color seamlessly just as much as we do.
Located downtown, the Glass Light Hotel is arguably the most unique, historic hotel in our city. This hotel boasts a European-style atmosphere whose whole concept was built around the art of glass blowing. There are about 60 pieces of glass art on display in the hotel, glass touches throughout and many design features that pay tribute to the glass-making process. For example, tall wooden elongated slats are the backdrop to the welcome desk which represent the wooden tools used during the sculpting process. Next, notice the hotel attendee name tag when they check you in, it's also made of glass. In each of the hotel rooms itself, you will see that the designs were inspired by a glass artists' studio where you will notice the different wood planking and art behind the mirrors that are meant to signify an artist's sketch.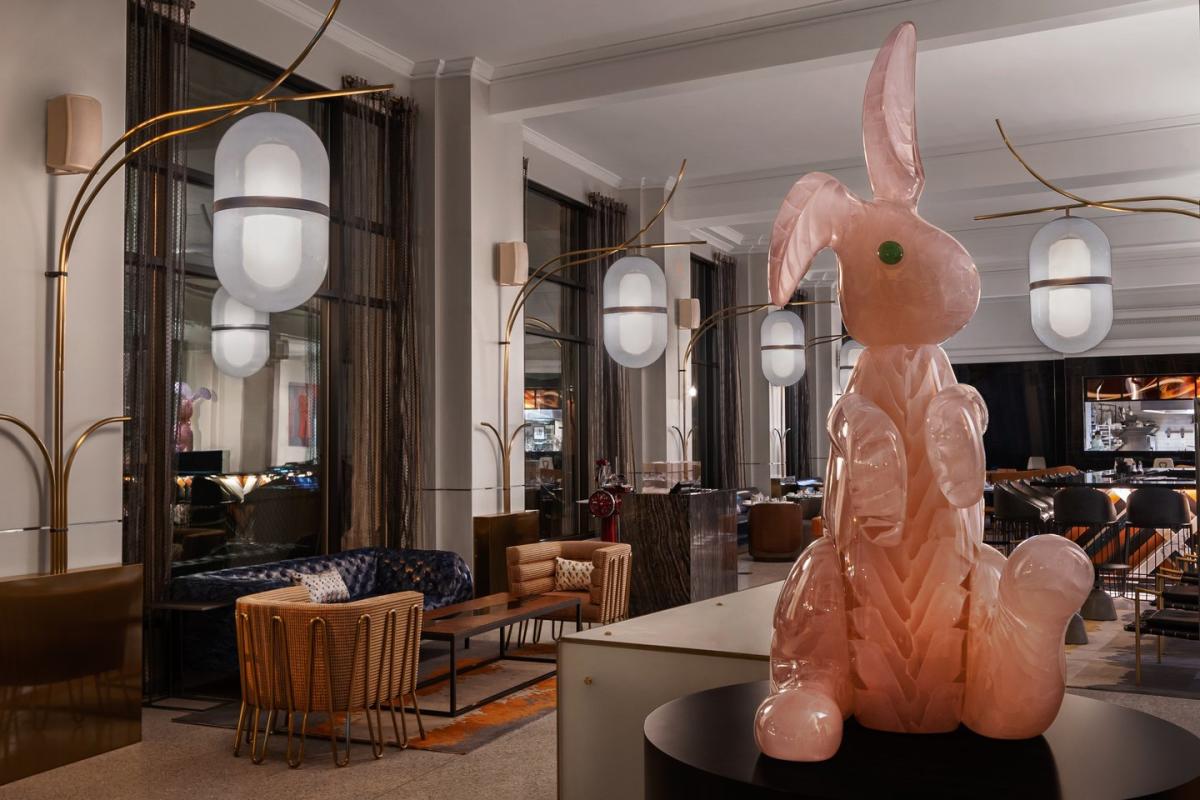 Something else to note is that you will find glass carrots in each hotel room which go hand in hand with the massive pink bunnies found inside the lobby and on-site restaurant. Why bunnies and carrots you must ask? Well, the Misses of the family, who co-created this hotel, is nicknamed "Bunny." These bunnies were created in the Czech Republic and were transferred to Norfolk in pieces to then be assembled in the hotel.
Glass Light Gallery
Attached to the Glass Light Hotel is the Glass Light Gallery or the Perry Glass Art Collection. Meander the two-story gallery which is made up of 65 small and life-sized pieces of glass art which has free admission and is open to the public. While this art is the private collection of the Perry family, they will be rotating out the artwork so they can showcase the brilliant work of other artists.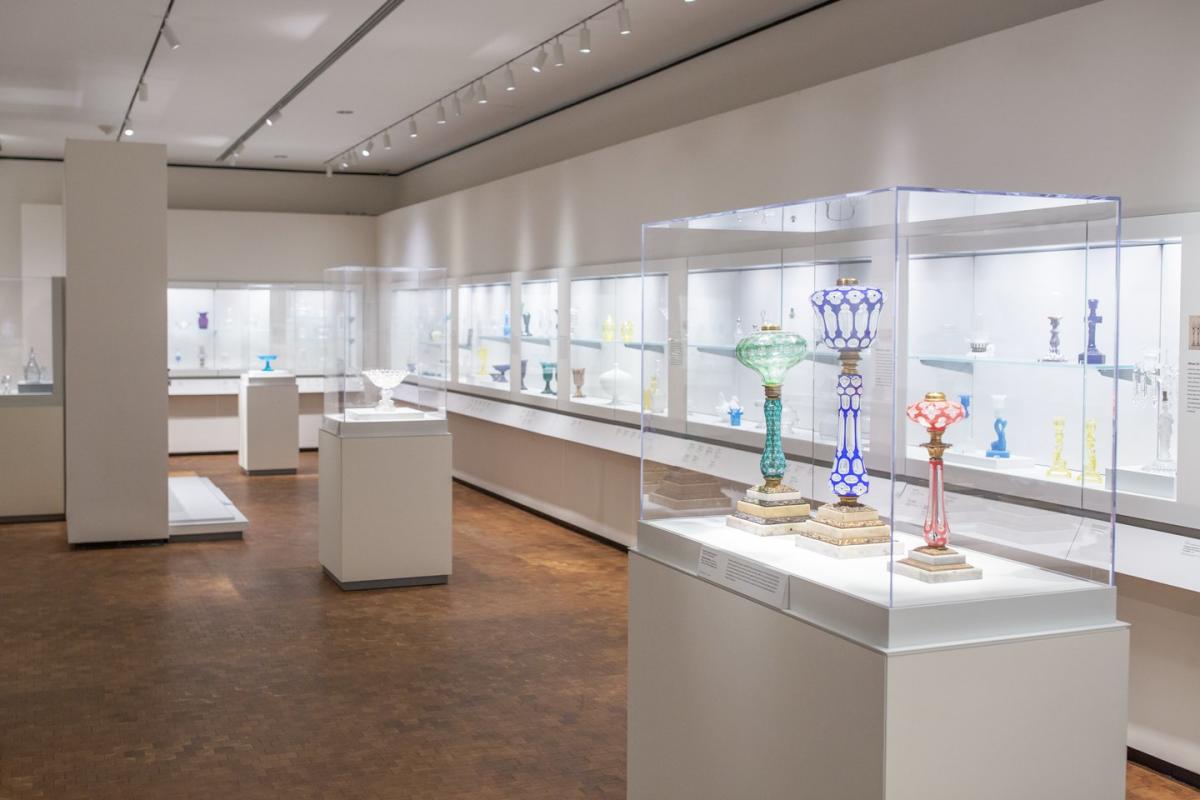 The Chrysler Museum of Art is a museum of 30,000 objects spanning over 5,000 years! One of the most notable collections is of their glass art exhibit which kick-started Norfolk's glass culture. This exhibit consists of 10,000 pieces that are undoubtedly extraordinary and range from small single-colored vases to intricate wine goblets dating back to the 1800s, to flasks, ribbed bowls and mosaic cups circa the 1st century B.C! It's fascinating to see how different cultures, continents and religions incorporated glass into their daily lives from the 1st century BC to the present day. The Chrysler Museum showcases these artifacts beautifully and we hope you get lost in the beauty of this art.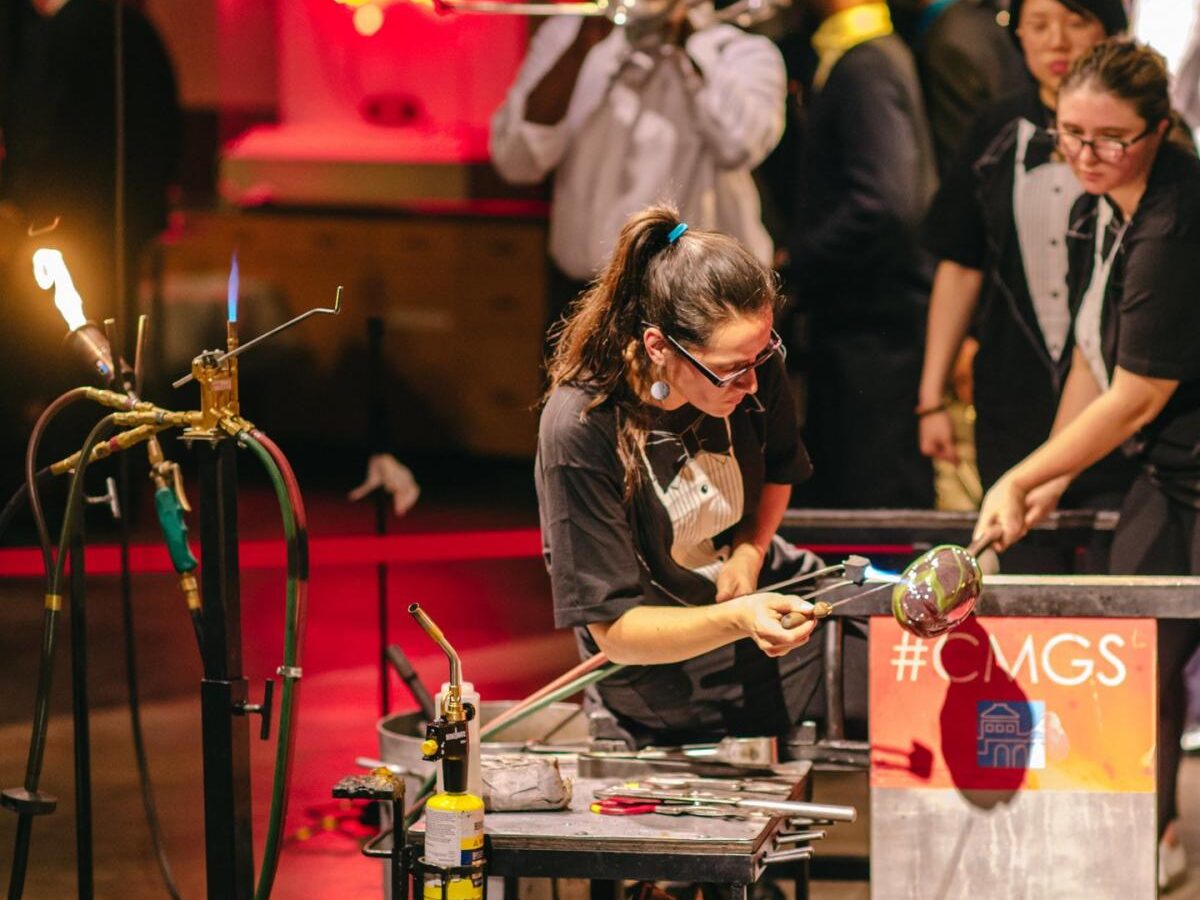 Norfolk's very own glass blowing studio, Perry Glass Studio, is where you can witness professional glassblowers creating masterpieces through free demonstrations or take a class for amateurs by creating a simplistic decoration, like coasters or ornaments. For those who are new to glass art, we highly recommend attending one of their free demonstrations, it's offered every Tuesday through Sunday at noon. During the demo, you will watch glassblowers gather, sculpt, design and blow molten glass (lava-hot glass). This experience will shed light on the difficult nature of glass art and hopefully give you a newfound appreciation for all those handmade glass pieces you see on display in museums or in your grandparent's home.
Located adjacent to Old Dominion University, Barry Art Museum is free and open to the public. This state-of-the-art museum is home to paintings, dolls and of course glass art. While wandering through their glass art collection you will come across pieces composed by world-renowned glassblowers, like Karen La Monte and Lino Tagliapietra but you will also find pieces of glass on display from local artists like Emily Bartelt-Juel, who attended a local Norfolk college and is now a Staff Instructor at the Chrysler Museum of Art. The Barry Art Museum takes great pride in showcasing multiple pieces of glass art designed by women because this industry has a heavy male presence. The museum has free guided tours every Saturday at 1 p.m. and parking is also free.