From pillowy soft, savory biscuits to fluffy pancakes topped with delicious syrup, brunch in Norfolk never disappoints. No matter what your taste buds are craving, these popular brunch spots have all the essentials. Gather your brunch squad and get ready to dig in!
Downtown
Those looking for a more boozier brunch with a Southern twist can head to Brick Anchor Brew House. They have three different types of Bloody Marys on their menu as well as a mimosa flight. Their offerings range from traditional omelettes and buttermilk pancakes to spicy Nashville Hot Chicken and Waffles and scrumptious Cajun Parmesan Cheese Shrimp and Grits.
Why be limited to Sunday brunches when you could enjoy brunch six days a week? At Cork and Co. you can, with their delicious brunch menu available Tuesday through Sunday, and we are not complaining! The menu is filled with distinctive brunch items like their Down South Benedict – buttermilk golden fried chicken breast on an english muffin, topped with two poached eggs and finished with jalapeno hollandaise. The food is delicious, but it's their Grande Mimosas that will keep you coming back for more.
Brunch cocktails are traditional in concept but have unique flares of flavor thrown into each to spice it up. A favorite is an orange crush Man-mosa – orange infused vodka, gin, lime juice, orange juice and prosecco, topped with orange blossom water. Spoiler alert, they give out complimentary fresh baked flavored donuts upon ordering. The flavors are constantly changing and range from blackberry glazed to peachy donuts, made with Blue Bee Cider's Peach Madness – like a dessert Bellini! Don't worry, our taste buds are watering too.
Chelsea
Looking for an atypical sit-down brunch? Smartmouth Brewery's monthly Jazz Brunch hosts food trucks, pop-up coffee vendors and live jazz musicians to help set the relaxed vibe for your Sunday morning. Every other month they host a Vegan brunch catered by Desmond's Island Soul Grill. Forget the bacon and dive into one of their Vegan dishes like their Escovitch Krabcakes and Coconut Grits – seared Crab Cake made with chickpeas, hearts of palm and sauteed vegetables over creamy coconut grits, topped with a spicy pickled vegetable medley.
Ocean View and East Beach
Brunch with a view! Stony's is owned and operated by Chef Stony and Laura Johnson and is located in the neighborhood of East Ocean View, offering complete views of the East Beach Marina. Their brunch menu offers typical dishes like Cinnamon French Toast and eggs benedict, but they also have Southern classics like scrumptious Shrimp and Grits and, of course, Chicken and Waffles. We know bloody marys and mimosas are a must at any proper brunch, but try a local favorite cocktail that rivals the mimosa, the Orange Crush. This cocktail has orange juice, Sprite and flavored vodka making it a perfect mimosa substitute.
Railroad District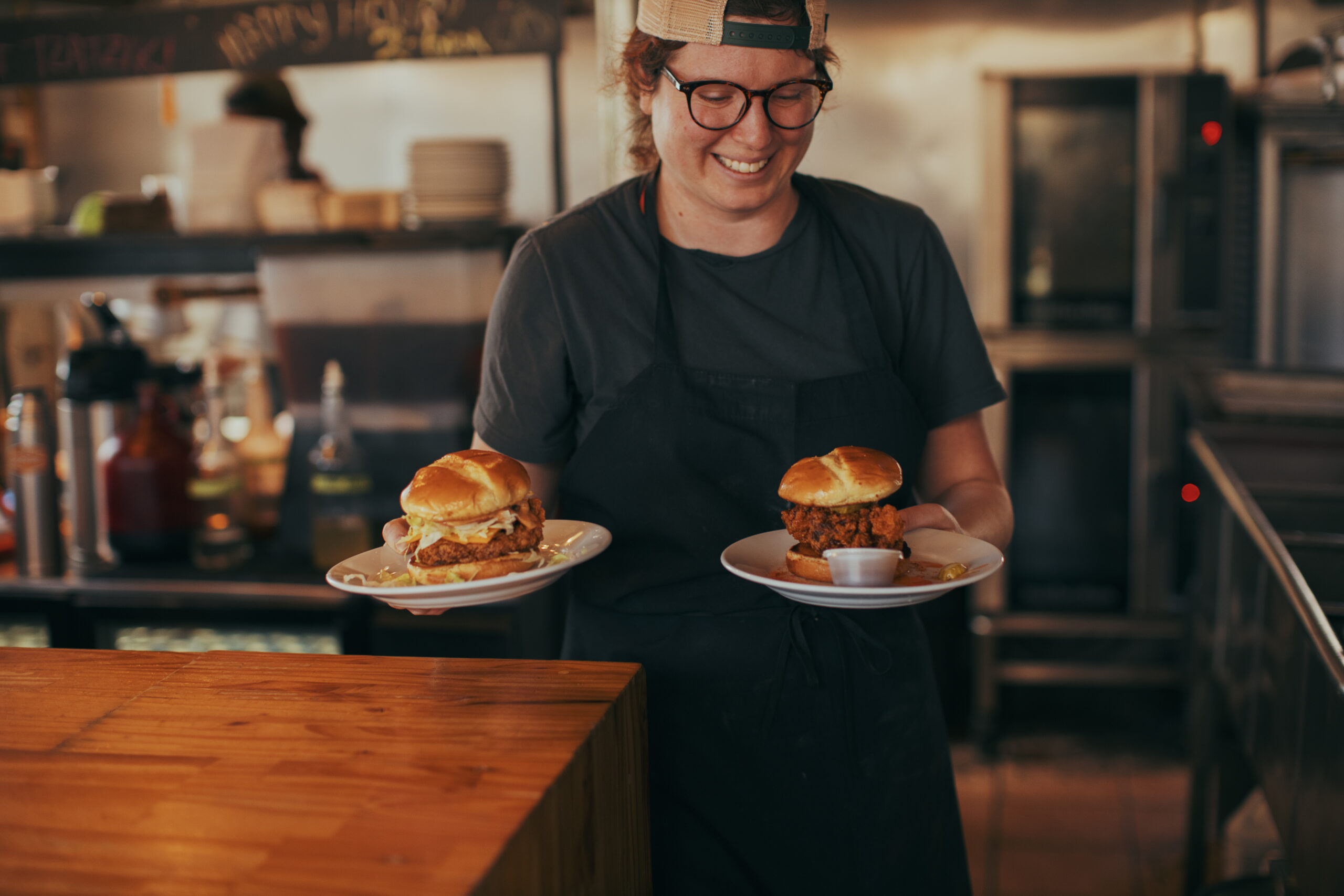 While this isn't your typical brunch outing, you can ask any local for a brunch recommendation and we can guarantee that Handsome Biscuit is at the top of their list. This trendy biscuit shop popped up in 2013 and has been slinging the best breakfast sandwiches ever since. Stating the obvious here: they specialize in biscuit sandwiches, like fried chicken biscuits, pulled pork biscuits and more. Their more breakfast-forward biscuit, the Hot Betty (fried egg with seared greens, garlic and topped with their specialty Lupo hot sauce), can be paired with their crispy hashbrowns to really tie in the brunch vibe. It's common for Handsome Biscuit to have a line out the door, but the wait is well worth it.