Summer is the perfect time to make a splash with a visit to Norfolk, one of the world's great port cities. With the Chesapeake Bay and gorgeous rivers in our backyard and 144 miles of shoreline, you're never far from the water in Norfolk. Here are a few great things to do on the water during your visit.
Go Sailing
The Sail Nauticus First Sail experience is an introduction to sailing in a casual setting. Up to three students and an instructor will learn how to harness the winds and steer the boat on a course. All students will receive online access to Chapter 1 of a U.S. Sailing book after signing up. If you are wondering what it takes to sail and want to learn more, this is the course for you! It's a great way to unwind or just give yourself a unique experience.
@rylantuohy, Instagram
Hit the Beaches in Ocean View and East Beach
Ready for a swim? Norfolk has three beaches in the laid-back Ocean View area that are perfect for swimming. These include Sarah Constant Beach Park, just east of 4th View Street, Community Beach Park and Ocean View Beach Park, farther east near Norfolk Avenue.
@marstravelsearth, Instagram
Experience City Cruises
See incredible views of the Norfolk Harbor and the Navy's Atlantic Fleet aboard City Cruises. Enjoy delicious new menus and specialty drinks. Then, dance to DJ entertainment or relax on the rooftop lounge. It all adds up to the perfect Norfolk experience. Available year-round from Downtown Norfolk, City Cruises offers lunch, brunch, dinner, cocktail, moonlit cruises and more.
Go Fishing!
No matter what your choice of the fresh catch may be, you're sure to find it in the nearby Chesapeake Bay, home to a host of saltwater fish, including trout, flounder, cobia, croaker, red drum and striper. The Ocean View Fishing Pier offers a unique and enjoyable experience, with fishing license included in the cost of admission, equipment available for rent, on-site facilities and restaurant and head boat excursions departing once or twice daily.
@coopdeville_, Instagram
Board and Tour a Tall Ship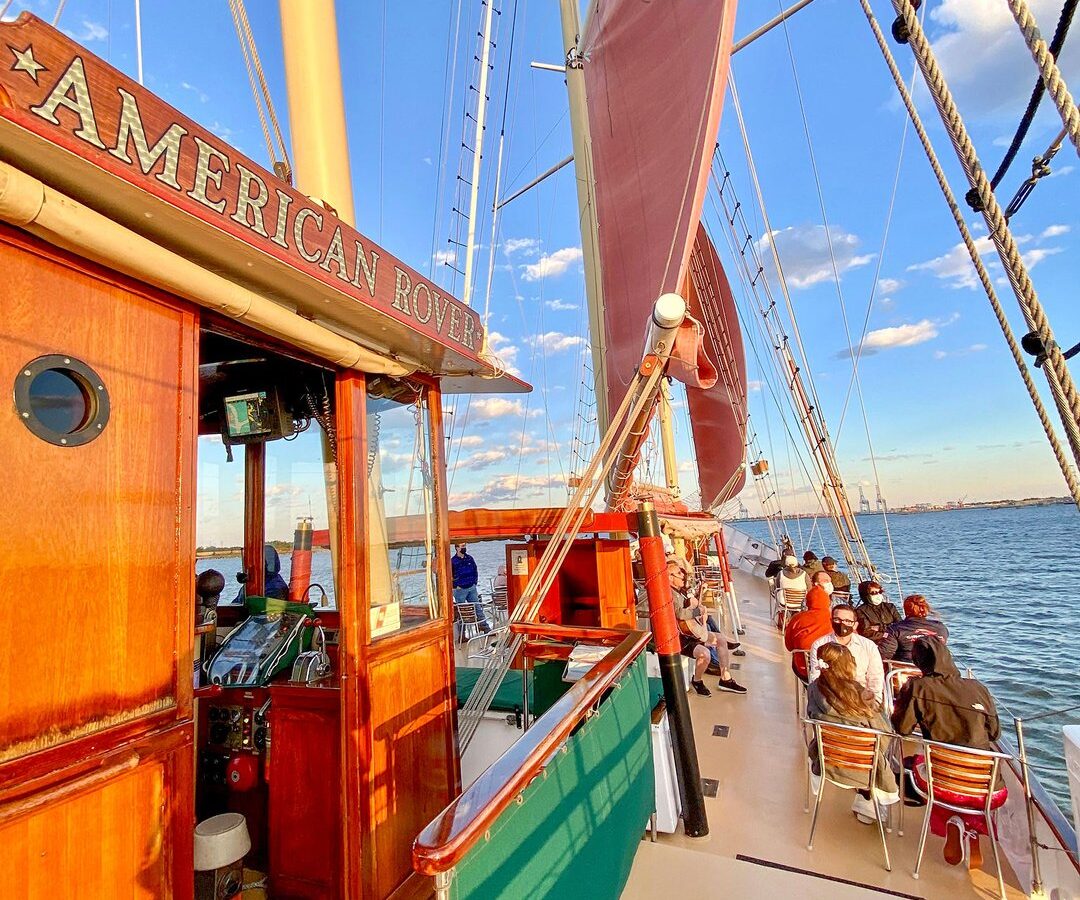 Want to get a lay of the land from the water? Then you'll want to set sail aboard Norfolk's own tall sailing ship, the American Rover. This three-masted topsail schooner with its familiar red "tanbark" sails has been a signature sight along the Elizabeth River and Hampton Roads Harbor since 1986, offering one-and-a-half and two-hour narrated Harbor or Sunset Cruises, April through October.
Step off the Garden Path
Norfolk Botanical Garden offers more than strolls through beautiful landscapes. This must-see attraction also offers Sunset Kayaking guided tours along Lake Whitehurst. Enjoy a relaxing paddle with experienced guides as you explore the world of plants and animals inhabiting the shores and waters. Kayaks, paddles and safety equipment is provided. No experience necessary. Visit their website for details and tour schedules.
Cruise by the Base
The Victory Rover is your front row seat to the U.S. Navy's Norfolk-based fleet. Departing from a berth just a short walk along the Downtown Norfolk Harbor from Nauticus, the Victory Rover offers a 2-hour narrated naval base tour. Passengers will witness the majesty of the Navy's aircraft carriers, nuclear submarines, guided missile cruisers and other vessels that make up the world's most powerful sea-going armada.