The Elizabeth River Trail, also known as the ERT, is Norfolk's 10.5-mile-long walkable and bikeable pathway that takes you through multiple neighborhoods with different waterfront views. Starting out in our thriving Downtown, the trail winds you through historic neighborhoods and campuses and ends in the beautiful neighborhood of Lochhaven. The ERT is trickled with breweries and delicious restaurants along the way, and if you are not familiar with our city, it's a great lookbook to a day in the life of a Norfolkian.
You can experience the ERT by bike, scooter or your own two feet. With Lime scooters scattered throughout the city, you can easily hop on and off the trail from just about any location. Renting bicycles at Pedego, located in Downtown Norfolk is also an option to explore.
To help guide you along the ERT, we have put together information on what to expect and where to stop within each section. Happy trailing!
Norfolk State University – 0.38 Miles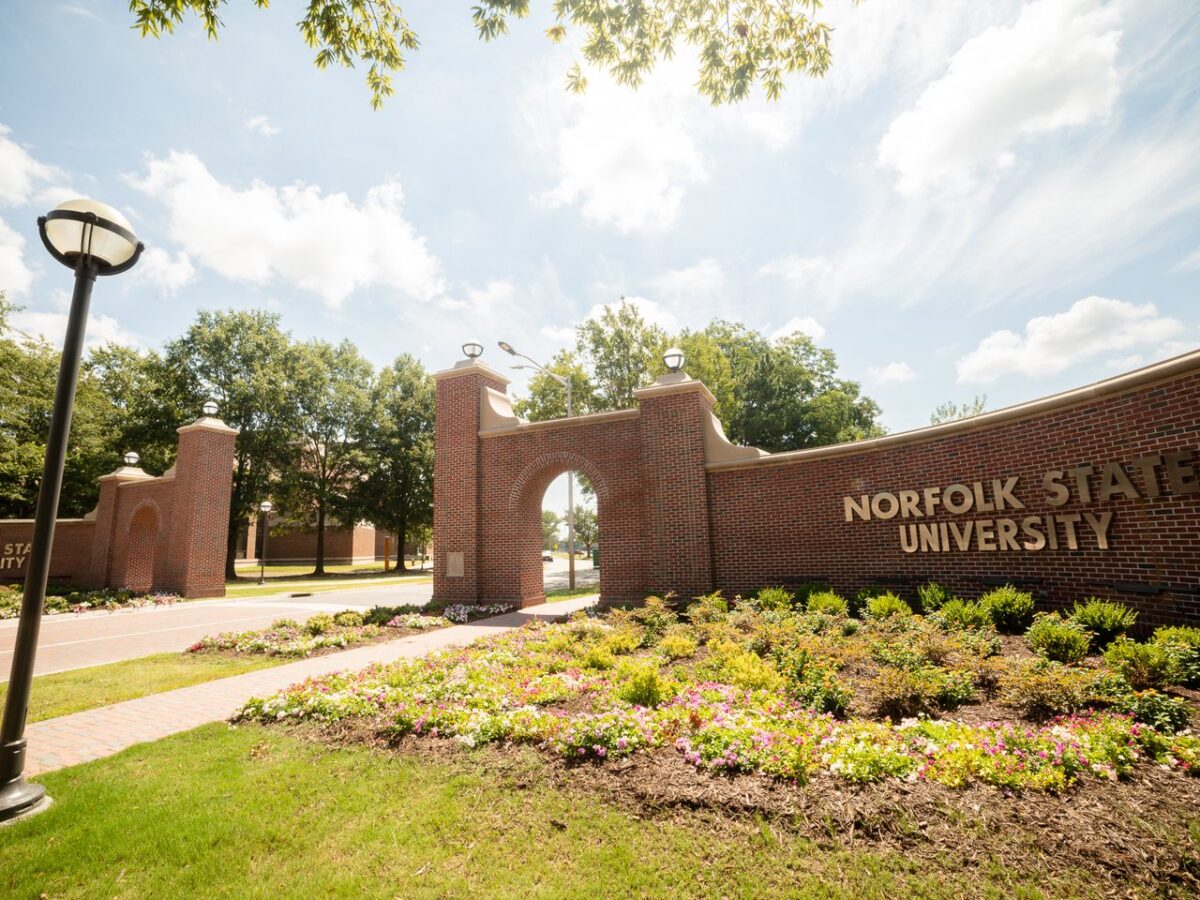 The Elizabeth River Trail's east entrance starts at Norfolk State University, a Historically Black College/University that was founded in 1935. NSU hosts football games (#GoSpartans), Black History Month programs and activities and an annual MLK Observance including a march and often a featured speaker.
Harbor Park – 0.89 miles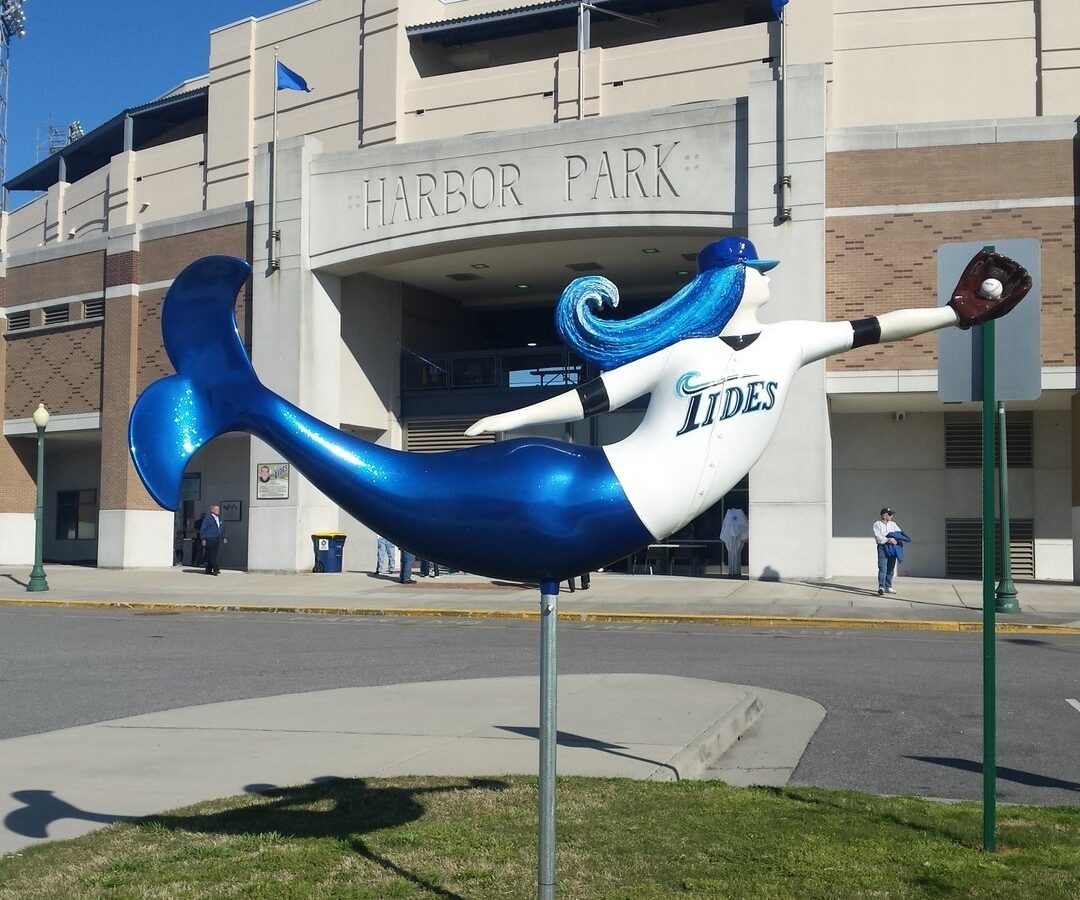 This stretch of path showcases Harbor Park, home of Norfolk's minor league baseball team, the Tides. While you're here, don't forget to have your picture taken with the Norfolk Tides official mermaid out front!
Downtown Waterfront – 1.14 miles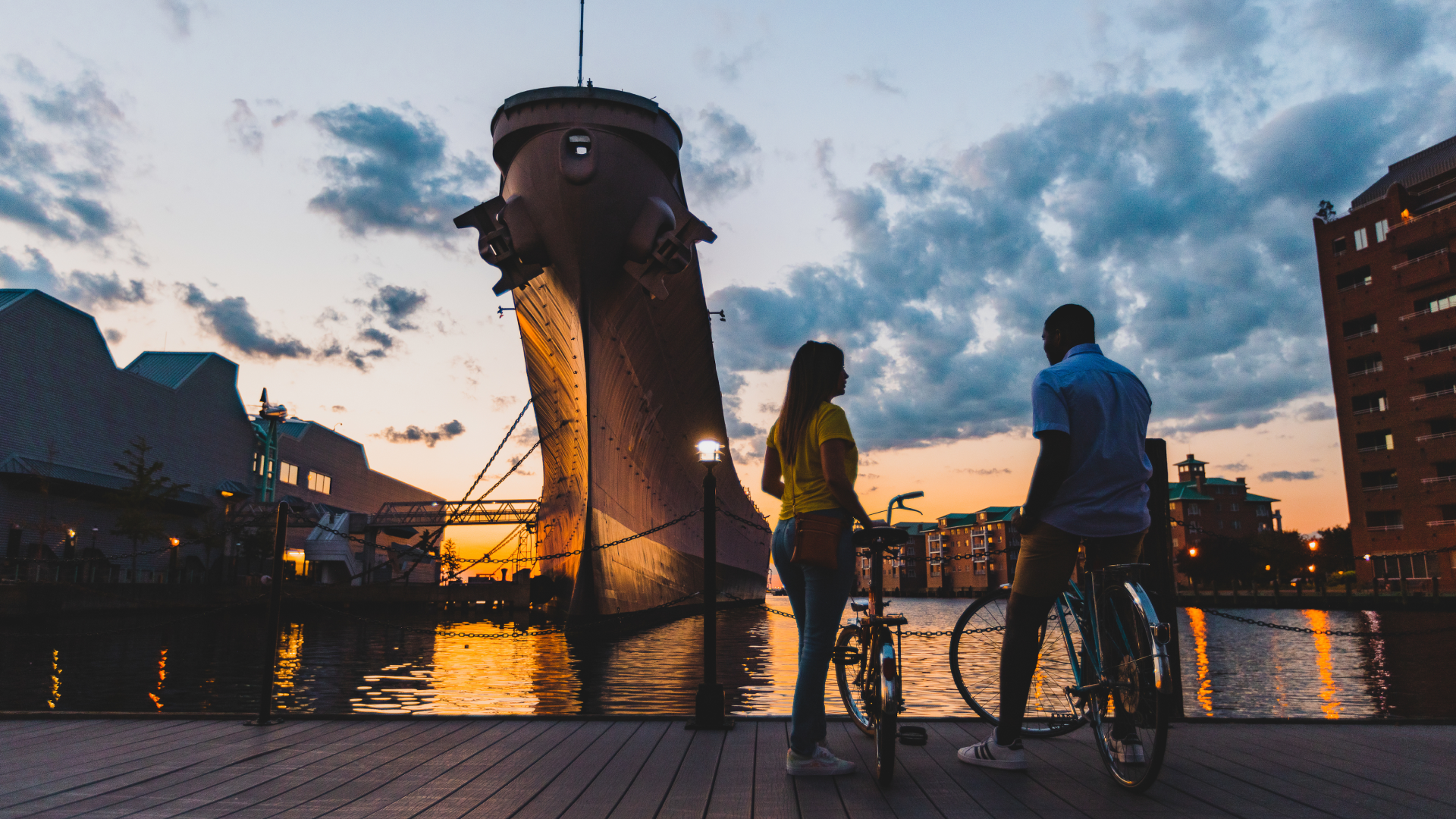 Once you have passed Harbor Park, you will see beautiful views of the Elizabeth River on the edges of Downtown. This portion of the ERT will lead you behind the Waterside District and through Town Point Park until you get to Nauticus and the Battleship Wisconsin. The Waterside District makes for the perfect stop to grab a bite to eat. Indulge in local seafood at Stripers and sweet treats at Carolina Cupcakery before you set off on the rest of your excursion.
Freemason – 0.73 miles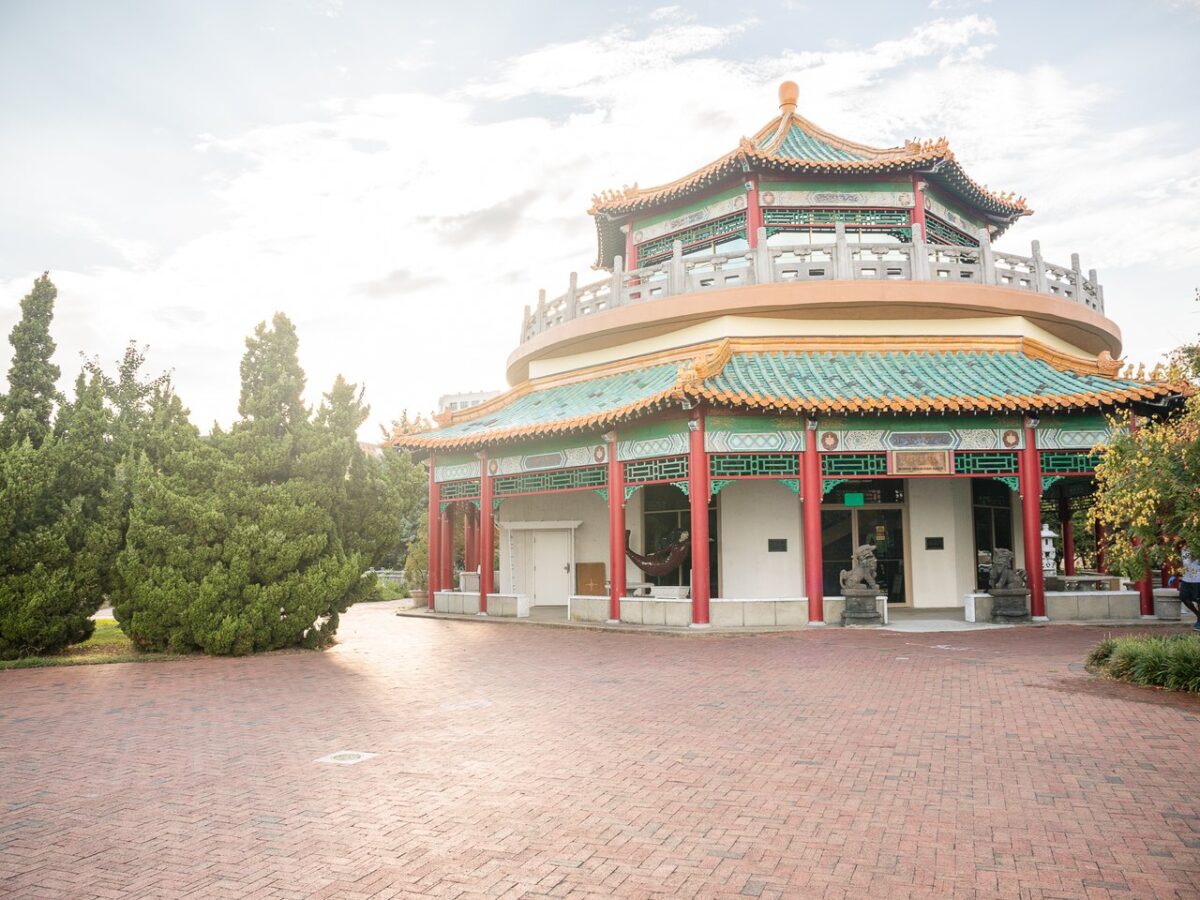 Sentara Loop – 1.48 miles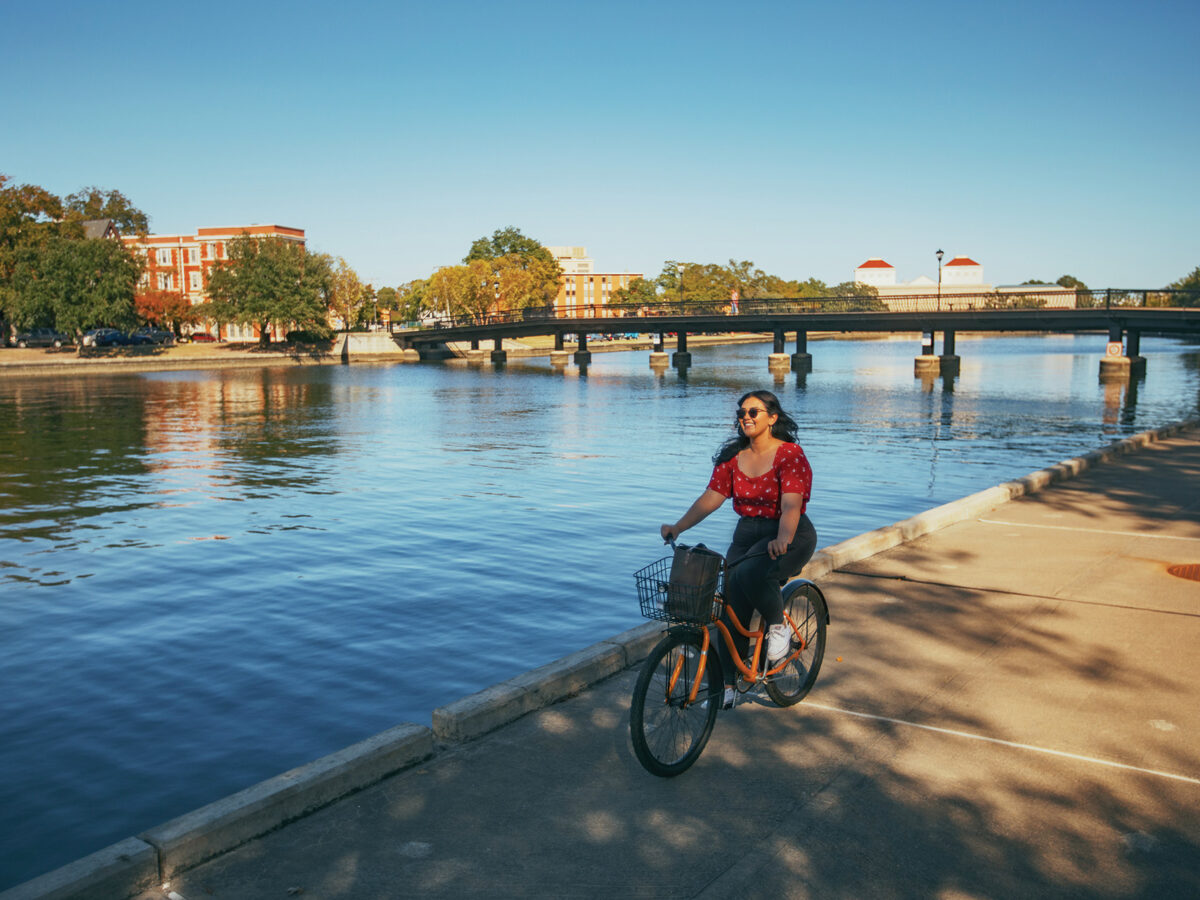 Once you go under and over a bridge, you will have overlooks of The Hague with European vibes along the ERT. At the end of The Hague, you'll spot the Chrysler Museum of Art and the Glass Studio. If you are there around noon Tuesday through Saturday, be sure to watch their free daily glass blowing demonstration. As you continue along, you will pass private homes ranging in styles from Queen Anne to Shingle styles and Colonial Revivals in Ghent continuing to Redgate Avenue toward Chelsea and West Ghent.
Fort Norfolk – 0.92 miles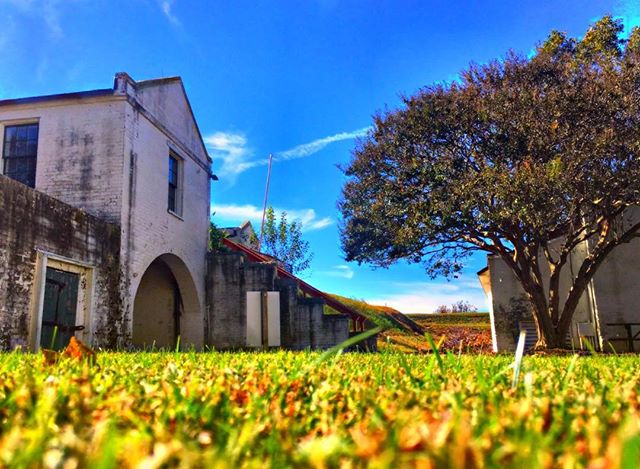 Hop off the trail and head to Fort Norfolk, the last remaining of 19 harbor-front forts authorized in 1794 by President George Washington. Quick tip: you will need an ID to enter the fort.
Chelsea – 0.33 miles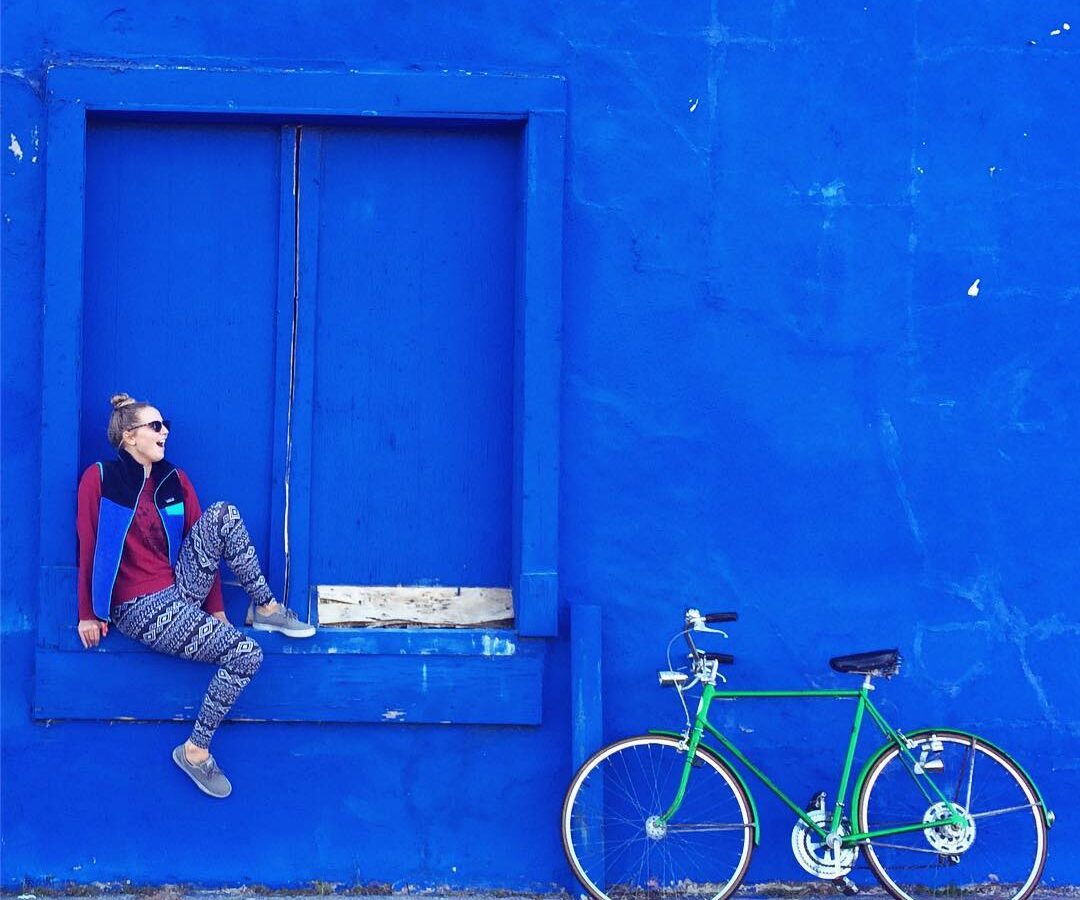 This portion of the trail is worth a few hours of your time. Some of Norfolk's most beloved restaurants and breweries are located all within the Chelsea District and within walking distance from one another. Hop off your bike or scooter and head to Smartmouth Brewing Co. and Benchtop Brewing, the Birch Bar, Torch Bistro or a local's favorite, Orapax, a Greek restaurant. One of Chelsea's newest eateries, Grandiflora Wine Garden, is a vegetarian restaurant and natural wine bar featuring an on-site garden and Turkish breakfast on the weekends. If you want to experience more than one place at a time, we recommend ordering a brick oven pizza from Chelsea Bakehouse and enjoying it next door at The Birch.
West Ghent – 1.42 miles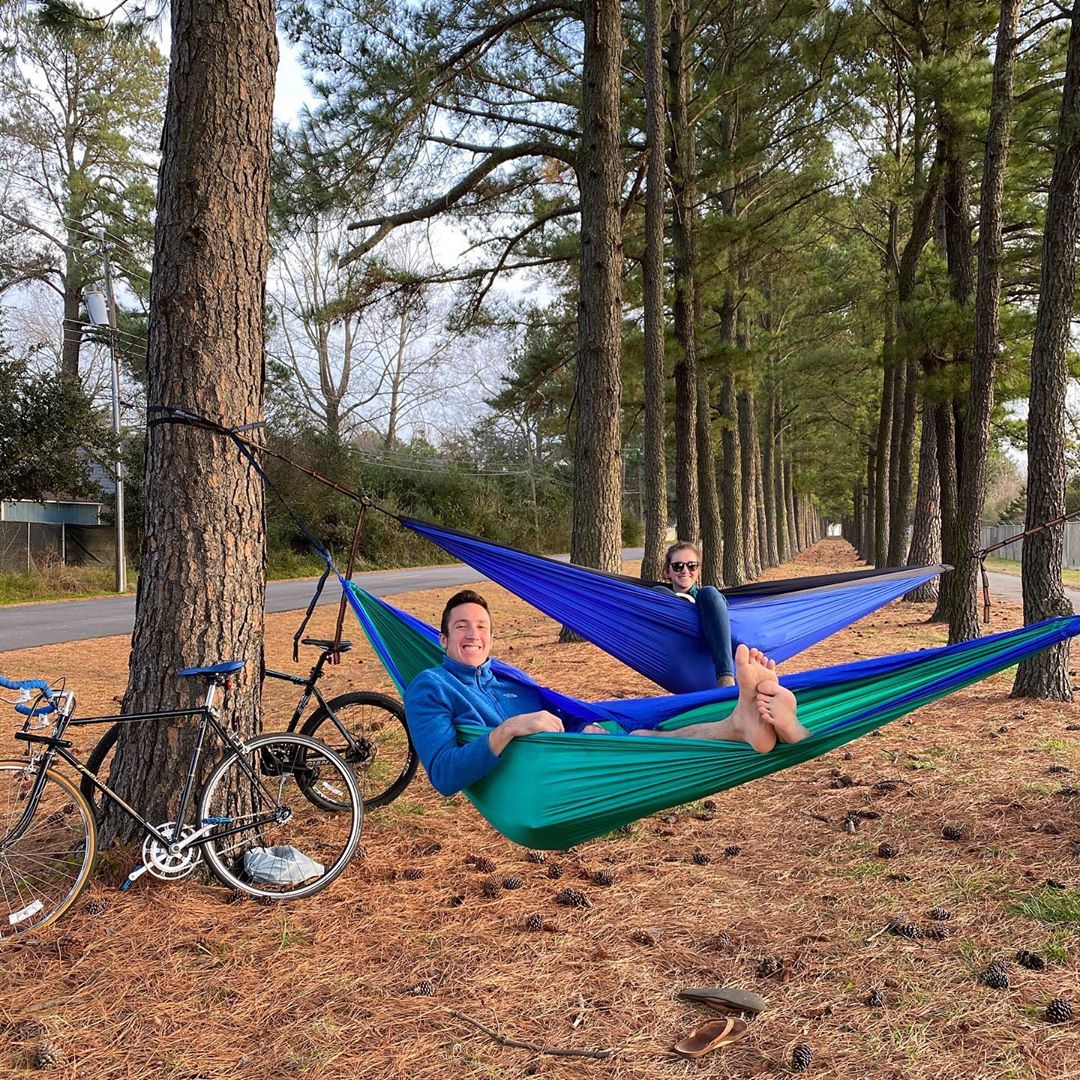 Leaving Chelsea, the trail will get a bit more scenic where you will travel near enormous pine trees that tower over you along Redgate Avenue, pass by Lamberts Creek and weave through Jeff Robertson Park, the perfect place to toss the frisbee.
Lamberts Point – 1.09 miles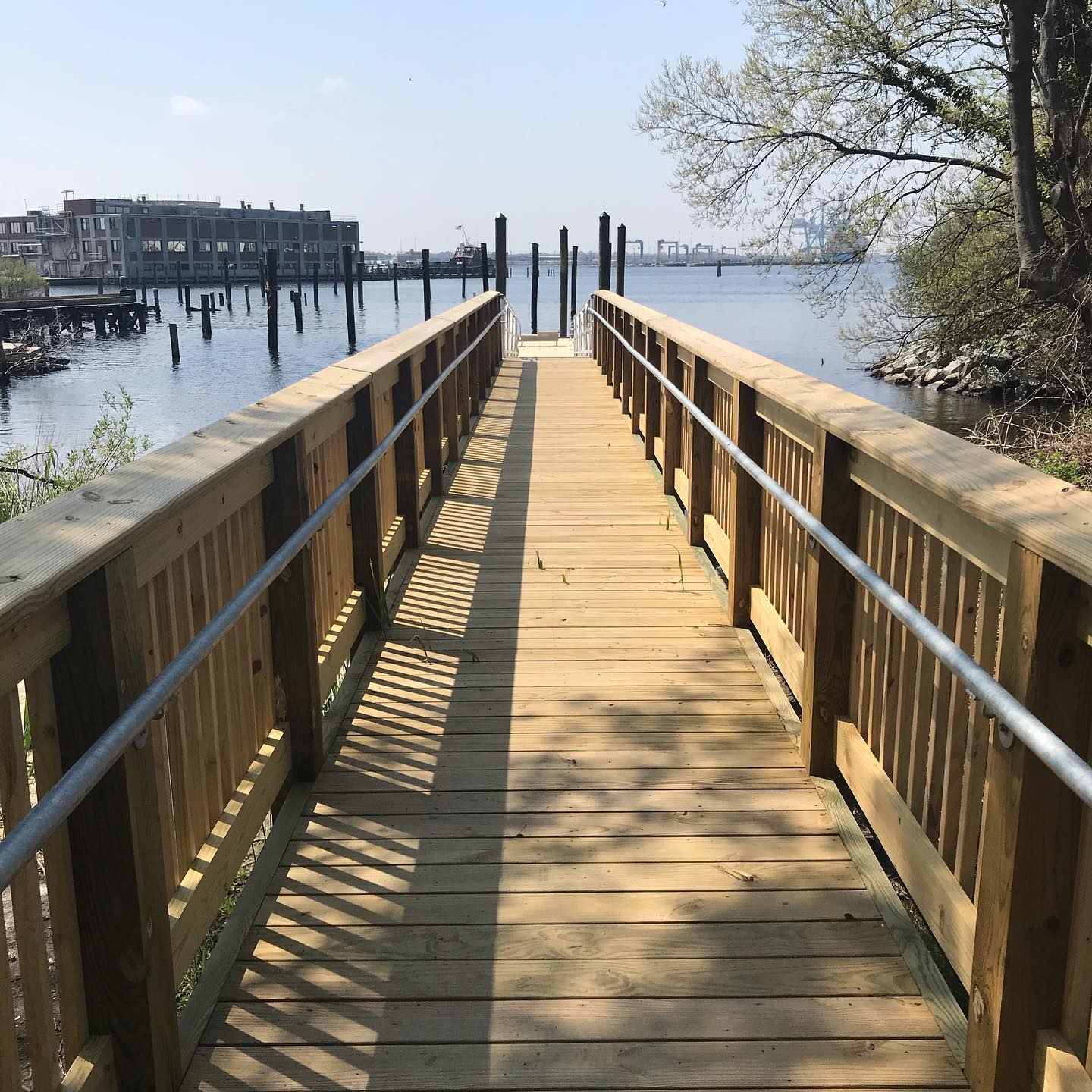 Leaving the park, you'll pass the busy street of Hampton Boulevard but quickly end up in a quaint residential neighborhood. Lamberts Point community garden can be found here, and the atmosphere is so serene, you may forget you're in a city.
Old Dominion University – 1.13 miles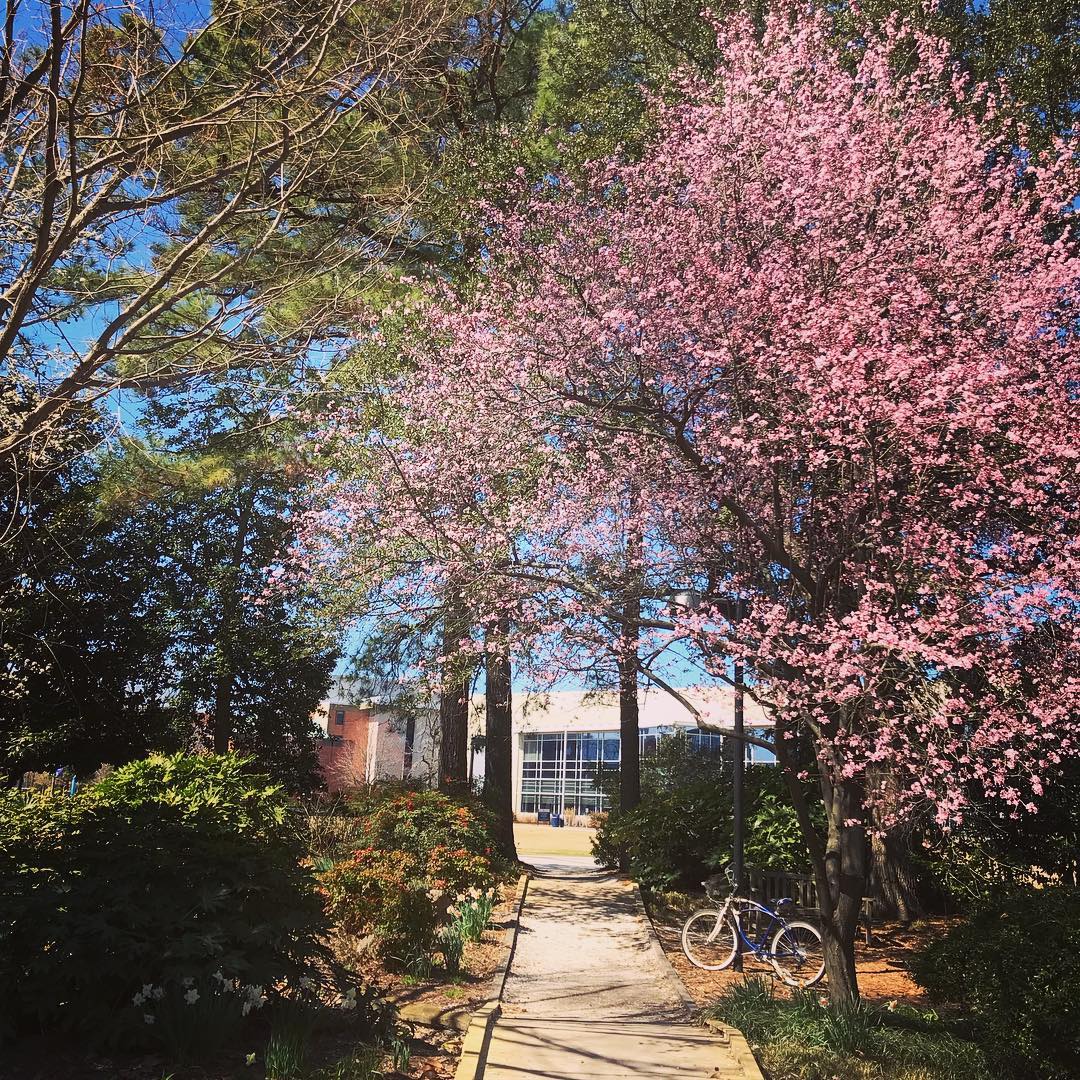 After meandering through Lamberts Point, you'll arrive on the ODU campus. Wander by the Powhatan Fields, Perry Library, the student center and Foreman Fields, passing by Monarchs on their way to and from class.
Larchmont – Edgewater – 1.32 miles
Adjacent to ODU's campus is the charming neighborhood of Larchmont. Weave through the streets where you'll find the waters of Edgewater Haven and Myrtle Park, perfect pit stops to take a water break and enjoy the view. Right off the ERT is D'Egg West, a local's favorite spot to refuel.
Lochhaven – 1.53 miles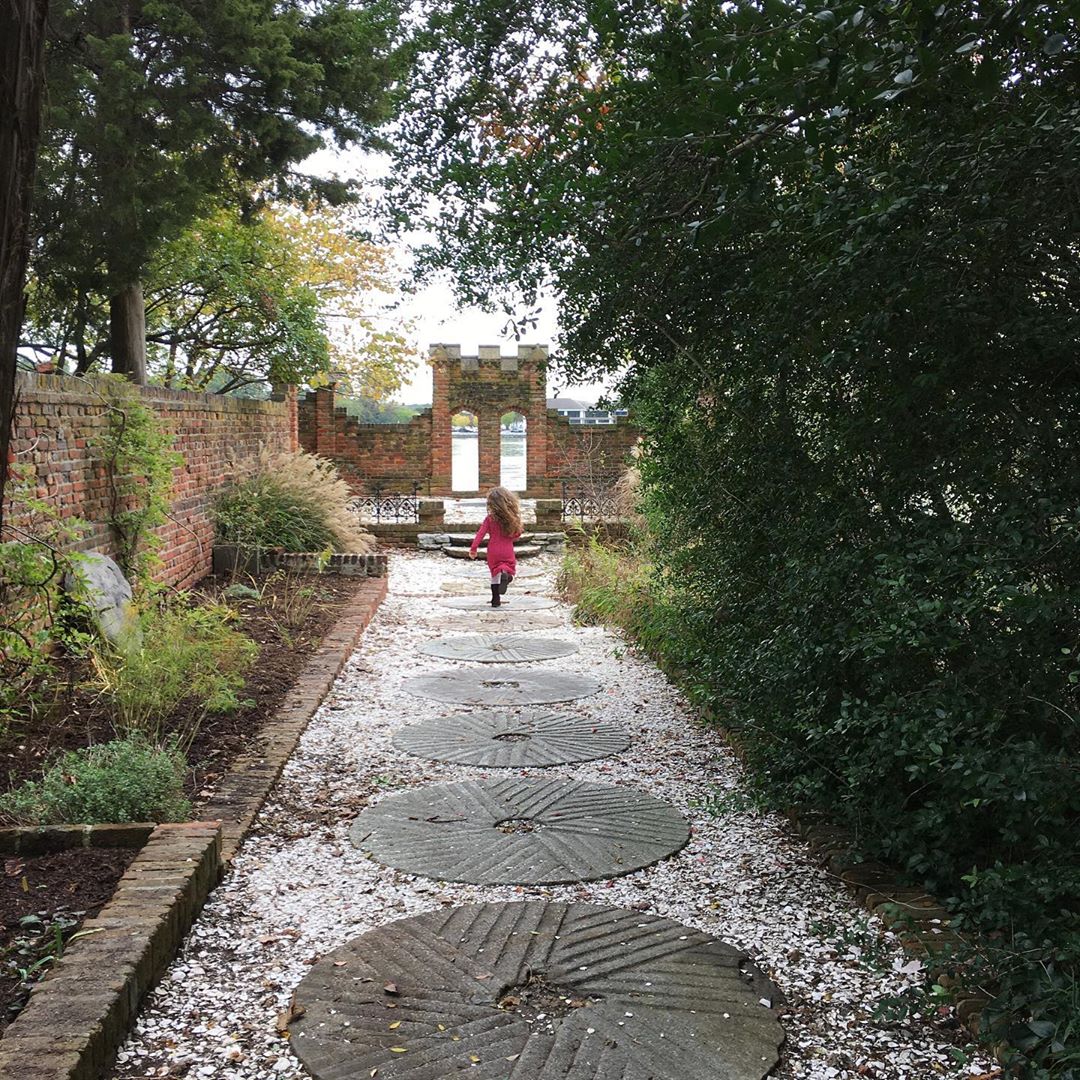 The last part of the trail, Lochhaven, is where you'll pass stunning residential homes, the Norfolk Country Club Marina and the Hermitage Museum & Gardens. The Hermitage is part of the prestigious Smithsonian Affiliations program and showcases a nationally recognized art collection spanning 5,000 years, contemporary exhibition galleries and 12 acres of gardens.
After passing the gardens, you will find yourself continuing through the neighborhood until you reach the end. If you are feeling ambitious, turn around and head back toward Downtown Norfolk to make your trip a total of 21 miles!
For a virtual map click here!