It's no secret that Norfolk is home to some standout breweries, but what's a wine sipper to do? Fear not, our vino-minded friends. We've got two top-notch wineries, along with a fine selection of wine bars to suit every palate from the casual sipper to the sniffing, swirling connoisseur. These places have the best wine selections in Norfolk, as well as some tasty bites to pair and share.
A lovely gem of Norfolk's Riverpoint neighborhood, Blanca is a convivial restaurant with a fun, old world focused wine list. By the glass they offer a curated selection of offerings in the categories of sparkling, white, rosé and red, plus a revered list of bottles in a range of price points. Blanca's food menu is always changing and evolving, so you never know what you might find to pique your interest, but here's two things that are certain: you truly can't go wrong, and you'd better save room for dessert.
What's better than the peace and ease of mind that comes from sipping natural wine? Perhaps it's enjoying natural wine alongside a carefully crafted vegetarian menu surrounded by a serene garden in the heart of Norfolk's Chelsea District. The owners of Grandiflora Wine Garden curate wines from natural winemakers who are opening new vistas of taste and character to explore and giving patrons the opportunity to support more sustabinable and ethical winemaking. You'll love their thoughtful and flavorful menu with selections meant to be shared, and you simply mustn't miss their Turkish breakfast on Sundays.
Cozy up to the bar at Luce, Downtown Norfolk's intimate Italian eatery, where you'll come face-to-face with one of the most expansive wine selections around. From head chef Tony Caruana, "The wines on this list, in my opinion, surpass all standard expectations from the vine, to the bottle and to your glass. It's all done at a very calculated level." To pair, Luce's menu features an infusion of Italy's different regions in a contemporary twist on traditional foods. An established menu favorite is the wild boar ragu over housemade tagliatelle, topped with rosemary infused olive oil.
Not only is Mermaid Winery the first winery to come to Norfolk; they're also the first urban winery in all of Virginia. The winery focuses on small lots of well-balanced wines using Virginia grapes. Guests can enjoy wines by the glass, by the bottle or as a flight where you may discover some new favorites. Mermaid has a wine club as well as a full menu featuring anything from charcuterie boards to flatbreads and some elevated entrees. You'll love their new Downtown location splashed in vibrant hues and drenched in natural light, all in a beautifully remodeled historic building.
Head to Historic Ghent where you'll find Press 626, a contemporary and relaxed wine bar inside a charming 1906 Victorian home. Peruse their extensive 400+ bottle wine list that's ideal to pair with delectable, elevated comfort foods. Join them for happy hour weekdays from 4–6 p.m., and follow them on social media to learn about upcoming special wine dinners. A word to the wise: their expertly crafted cocktails are also worthy of a toast.
Located on the second floor of one of the city's most esteemed hotels—Downtown Norfolk The Main—Varia serves as a combination lounge, piano bar and tasting room with a luxe atmosphere and unequaled wine selection. Their innovative wine studio features a 28-bottle cruvinet—a temperature-controlled wine dispensing system—offering three different pour sizes of exceptional vintages. Their Italian trattoria-style menu brings authentically elevated pairings to the table, from assorted bruschettas, flatbread and focaccia to specialty pizzas, pastas and main courses.
Located in Larchmont, Waters Edge Winery is family-owned and features popular varietals, including merlot, cabernet and chardonnay, as well as harder-to-find wines such as barolos, gewürztraminer, pilotage, petit verdot and port. By sourcing grapes globally, they make over 50 different kinds of wine from the best grape-growing regions in the world. While you're there, enjoy tasty offerings like Virginia crab dip, salads, bowls, boards, flatbreads and entrees. They also feature a stellar brunch menu and irresistible desserts.
Grapes To-Go
Looking to buy now and imbibe later? Here are some Norfolk wine shops worth popping by before you pop bottles.
The Crystal Palate is a wine boutique and wine education center in East Beach. Inside you'll find a thoughtfully curated selection of 120+ wines from around the world, artisanal cheeses, gourmet items, wine accessories and more. Partake in their weekly tastings, wine classes and events for wine enthusiasts, private wine experiences and professional Wine & Spirit Education Trust (WSET) courses.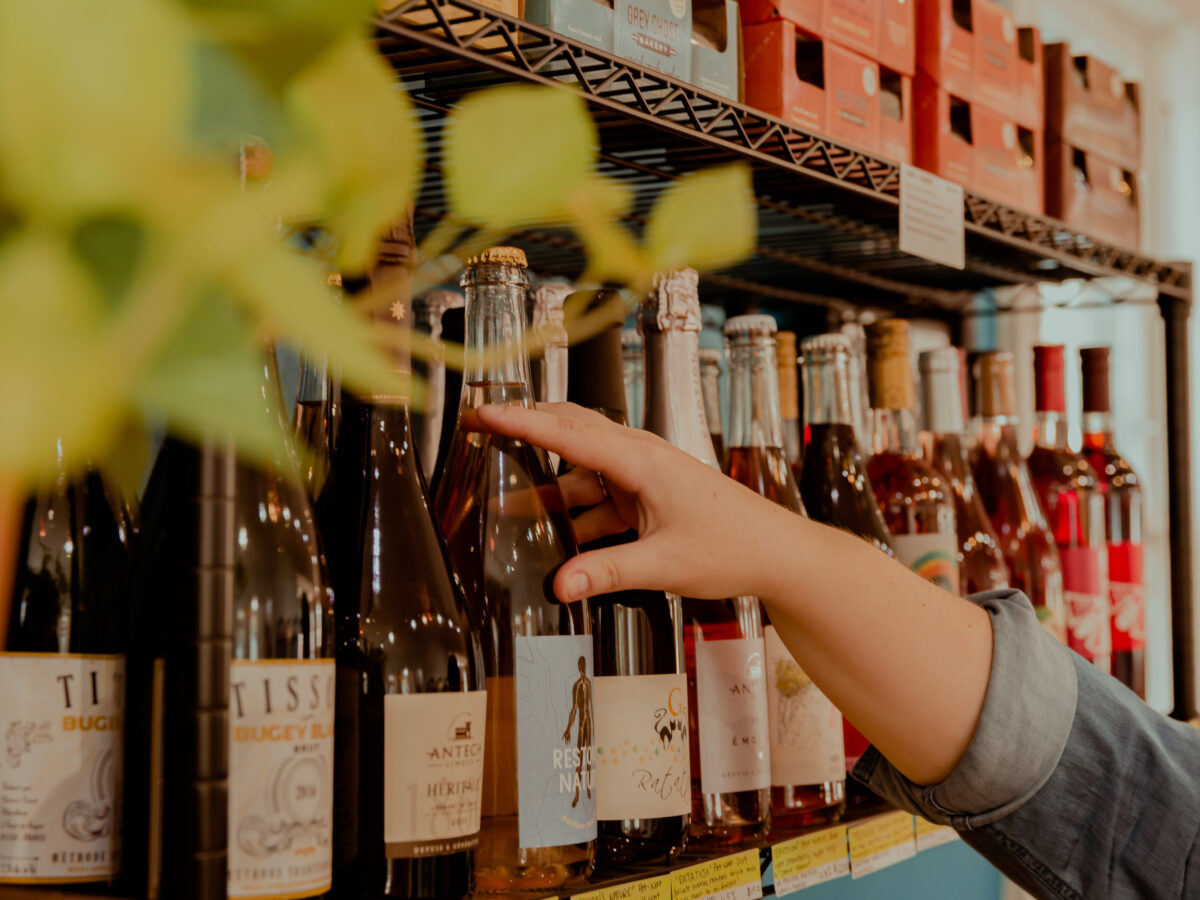 What if you didn't have to spend time worrying about the diversity and sustainability practices behind the bottles you're buying because someone has done the legwork for you? At Eleanor's, owner Erin Dougherty researches and vets the wines represented at her shop, only carrying brands that reflect the store's values of diversity and sustainability. She focuses on natural wines from makers who farm sustainably and organically, produce biodynamically and give back to their community. It's a win-win wine. While you're there, choose a great read from their wildly diverse selection of intersectional feminist books.
Known and loved across the commonwealth, TASTE offers a fresh selection of sandwiches, salads, soups and wraps, all crafted with the quality standard that customers have loved for years. At TASTE, located in Ghent, this same quality standard can be found in the products represented within their market. You'll find a carefully curated selection of wines, some Virginia-based and some not, ideal for bringing on picnics, gifting to friends or saving for a casual wine Wednesday.
Vino Culture
This Downtown boutique wine shop empowers individuals to be their own wine experts through curated retail selectinos, engaging and educational wine classes and weekly tastings. Their two wines of the week are always available to taste for free. Weekly wine tastings bring imbibers on a journey into more in-depth education. Private tastings are available too.
What pairs better with wine than cheese? (Obviously this question is rhetorical because the answer is nothing.) Where there's a grand selection of cheese, an elevated variety of wines must be near. Take a peek in the refrigerated section of this lovely cheese shop in Freemason to discover a new favorite quaff to accompany your queso.