With self-guided tours aplenty, and even guided tours focused on Norfolk's NEON District, Norfolk's art scene is not to be missed. Everything from public murals to installations on local buildings have been designed for the city. Norfolk's burgeoning arts scene provides a platform for a multitude of artists to create public murals on local businesses showcasing the city of Norfolk. Any space, whether on a building wall, a house, a shed or even the sidewalk, can be transformed into a stunning display by local artists whose love for the city is obvious in every scene.
Upcoming Murals
Ahead of the 7th Annual NEON Festival (Oct. 20–21, 2022), several new murals are being planned and painted on Norfolk's buildings. Watch for familiar faces and new friends as this year's selection of artists commence projects around NEON. These new murals will be unveiled at the NEON Festival, so make plans to attend and celebrate the new and ongoing energy of Norfolk.
Gourmandizing NEON
London-based artist Matthew McGuiness and The Governor's School for the Arts public art students will paint a mural on the side of Virginia Furniture with the theme, "A History of Lunchtime in Norfolk."
Ghent Grab & Go Mural
Victoria Jensen and Asiko-oluwa Aderin, fine art students from NSU, were selected for a mural on the rear wall of Ghent Grab & Go that illustrates the warm feelings that food and the creation of meals inspire.
Bob's Gun Shop Billboard Mural
Local artist Hanna Kirby will be the fourth artist to fill the rotating mural site on the billboard along Olney Road, with a design that welcomes all to the NEON.
Virginia Furniture Storefront windows
Local artist Parrish Majestic will enliven a storefront on Granby Street with colorful, temporary murals as a "selfie spot" in his signature graphic style.
Current murals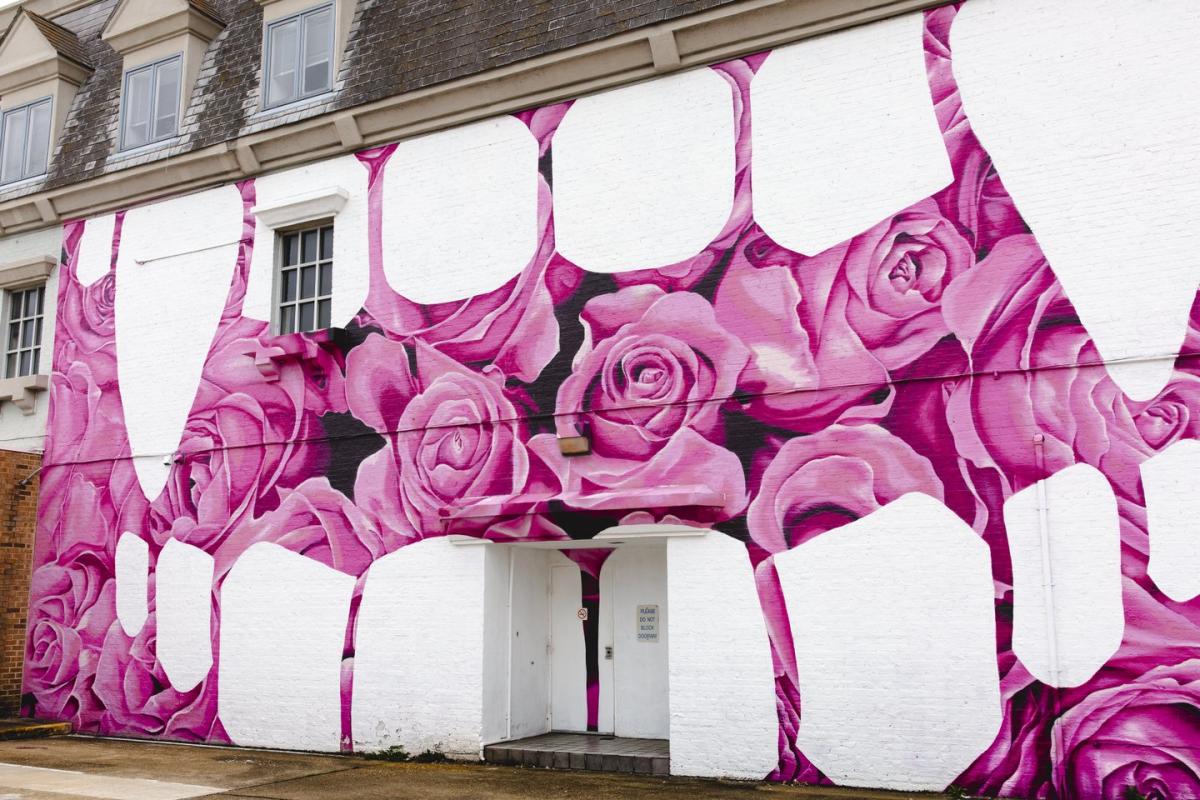 BLOOM
Artists: Carl Medley III and Charles Rasputin
Created by two Norfolk artists, Bloom is a combination of vibrant pink roses and stark white fangs located at 801 Boush Street. The artists were inspired by the intense energy and fierce creativity of the NEON District and wanted to showcase it through this mural.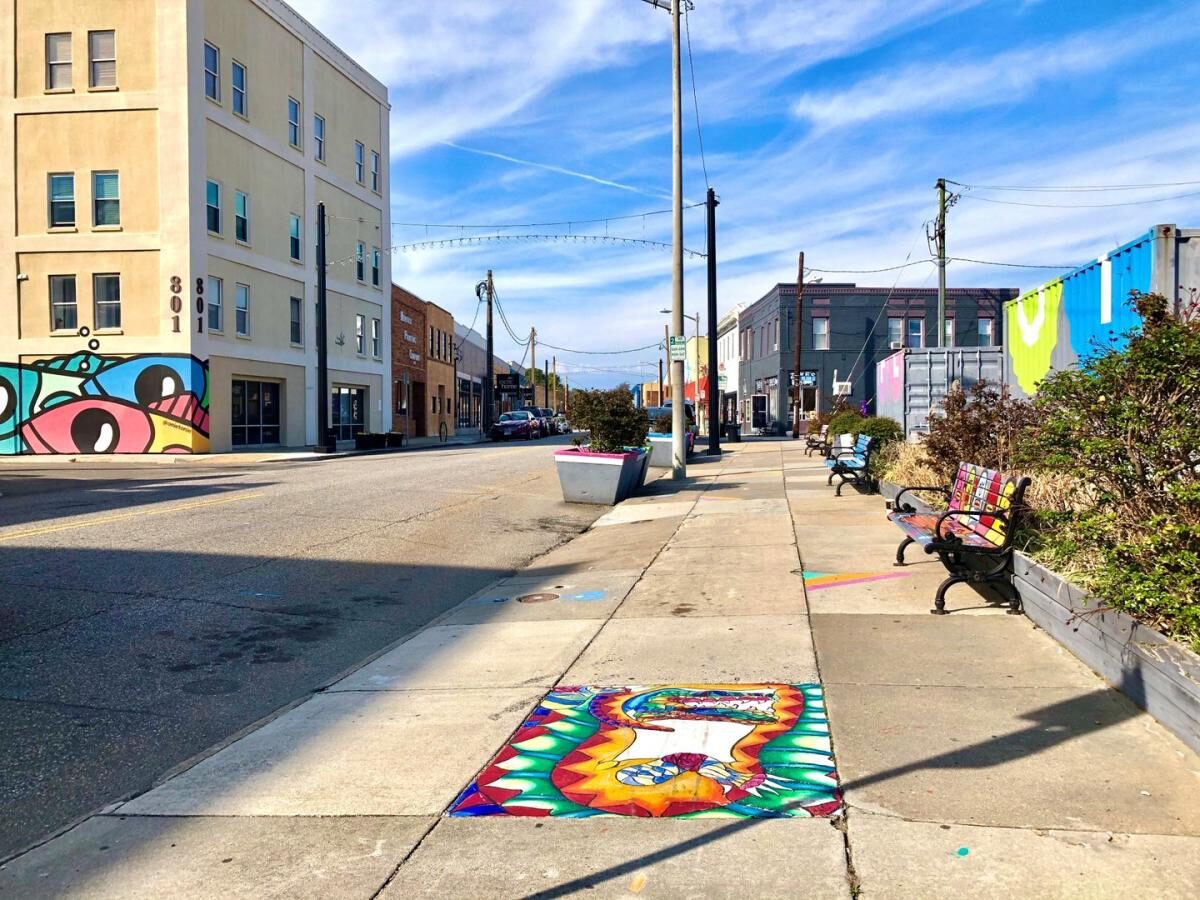 NEONing
Artist: Joan Biddle + Volunteers
Guiding you through the NEON District are colorful accents like sidewalk painted triangles and fences by Joan Biddle and volunteers. You can find them on park benches, along sidewalks and under murals, reflecting the colorful artwork found along the walls of local small businesses. These bright and vibrant pieces provide a guide for locals and visitors alike to experience the unique and creative artwork of NEON.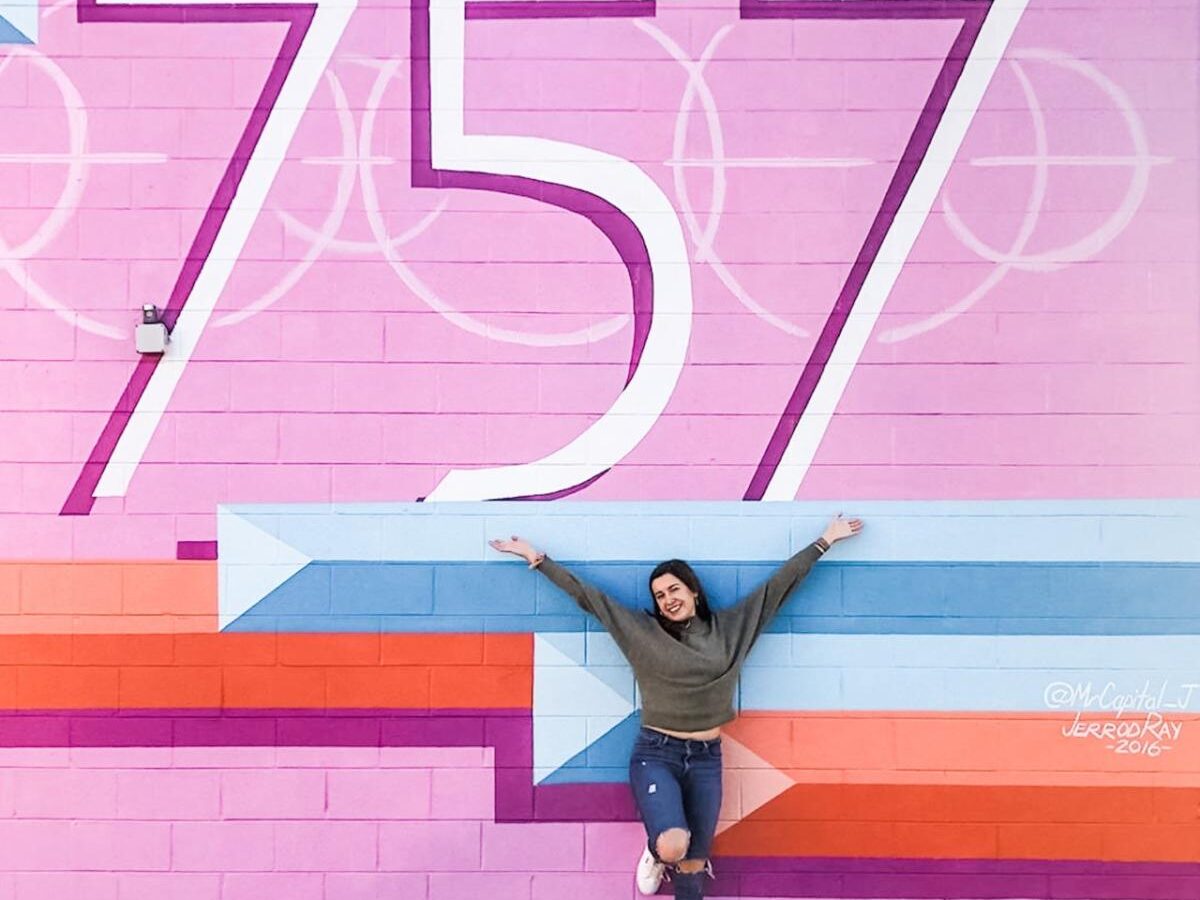 757 ENERGY & VIBE
Artist: Jerrod Ray and WKTR News 3
Visitors and locals looking for a new "Instagram worthy' photo spot, look no further than the 757 Energy & Vibe mural by Jerrod Ray in collaboration with WKTR News 3. This vibrant colored mural highlights the unique and creative community of Hampton Roads, also called "The 757."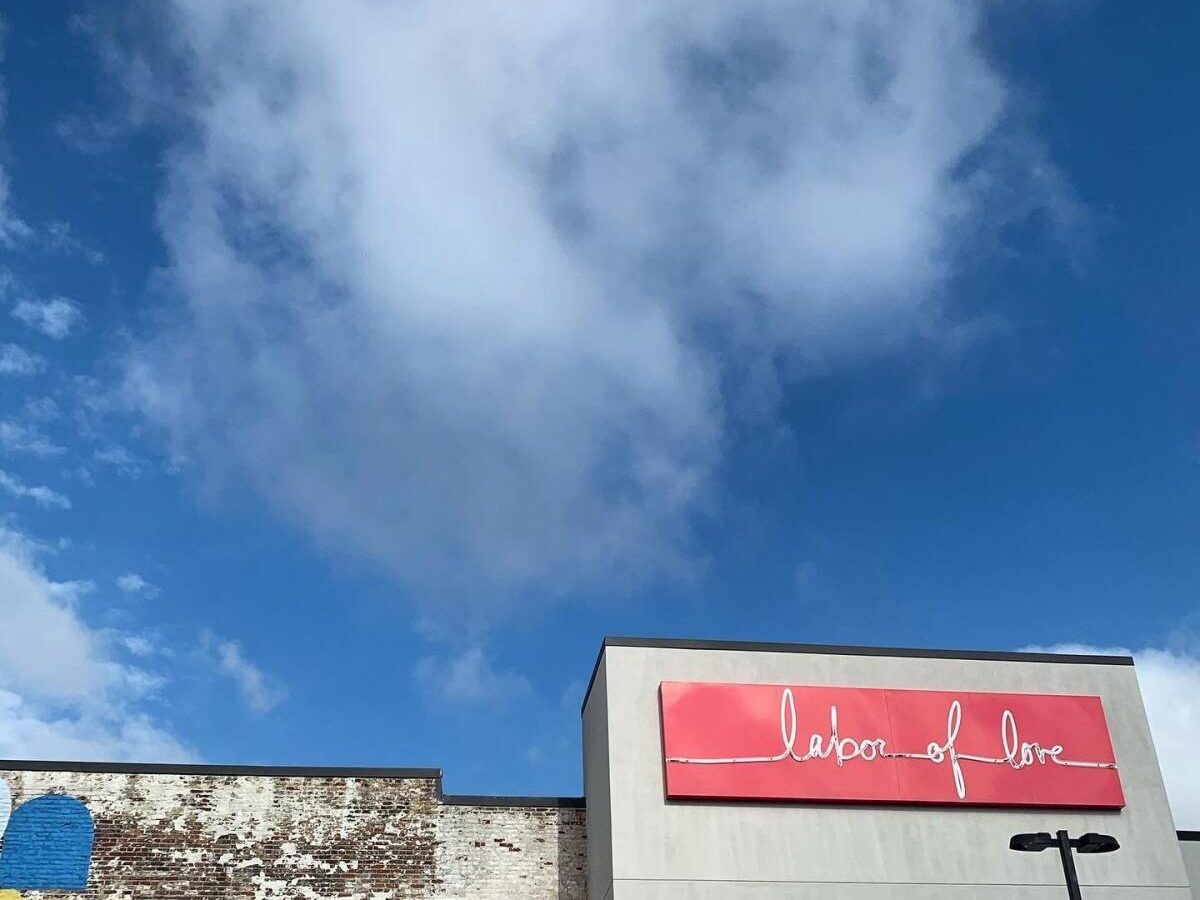 LABOR OF LOVE
Artist: Hannah Kirkpatrick
Alongside the Glass Wheel Studio, a contemporary art facility located in the heart of The NEON, Norfolk's Arts District Labor of Love glows in the artist's handwriting, forming an ECG or heartbeat. This unique piece of artwork expresses the energy required to sustain one's passion. In her practice, Hannah playfully links the transitions in technology through objects, devices and engaging experiences of art.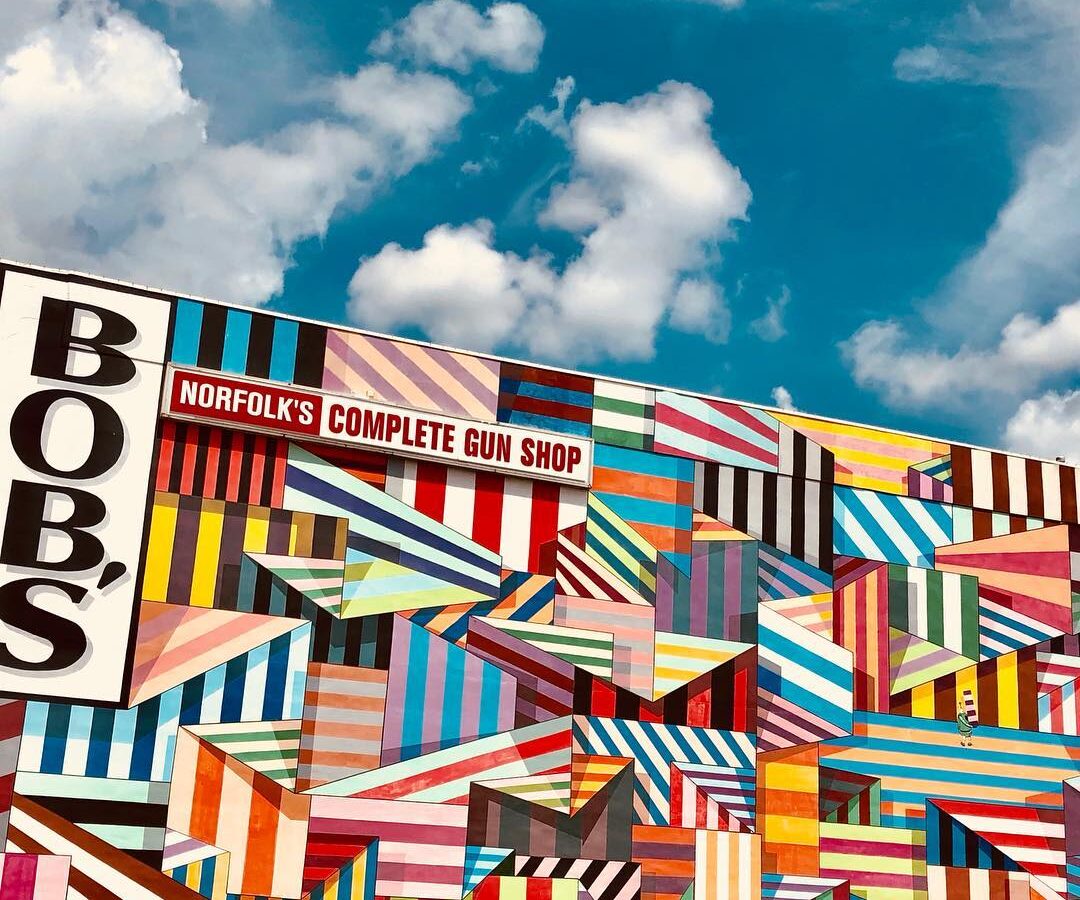 Razzle Dazzle
Artist: Nick Kuszyk
Paying homage to the Navy's camouflage styles from World War I battleships, Razzle Dazzle by Nick Kuszyk covers a 3-story wall on Granby Street.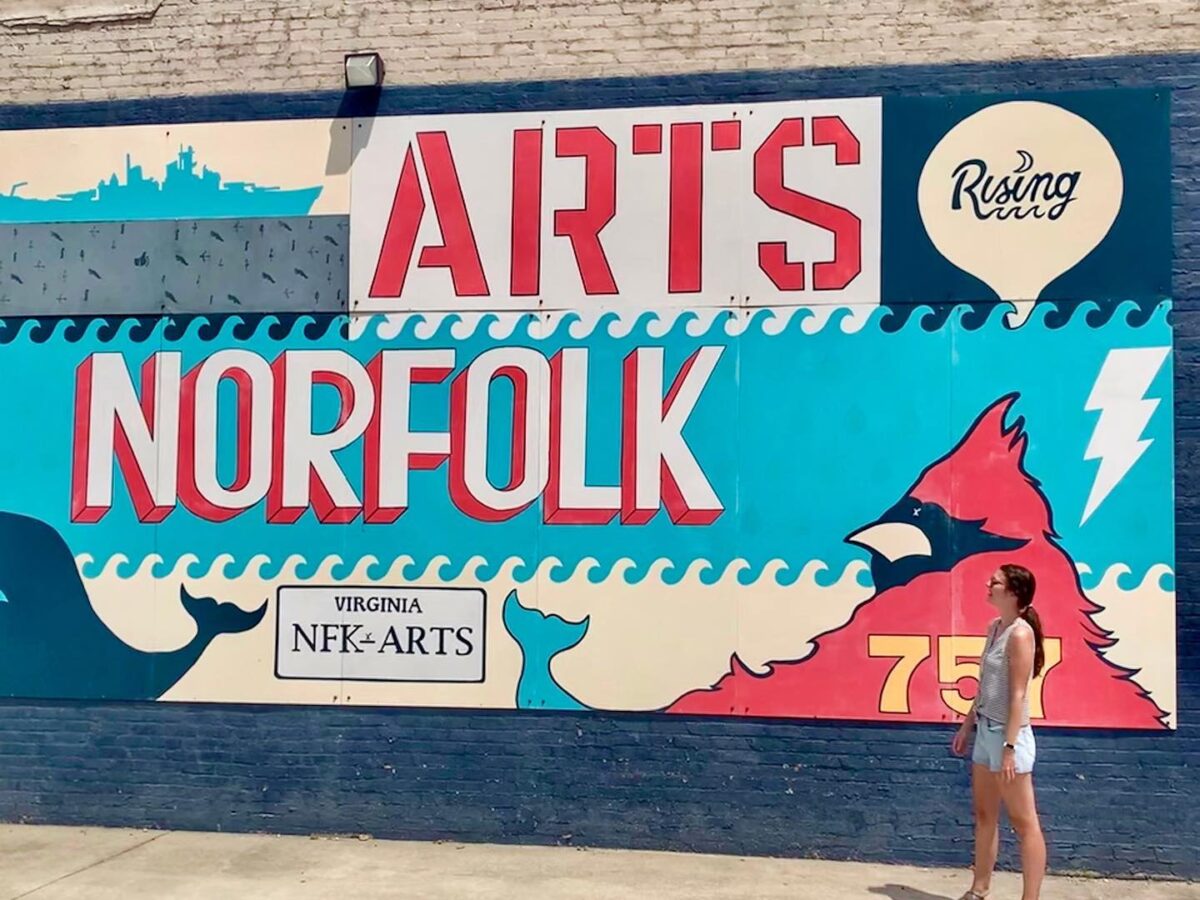 NFK Arts
Artists: Elliott Addesso and students
Many of the murals throughout the city, both inside and out of the NEON District have been collaborations between local artists and Norfolk's Emerging Leaders Program. Some, like NFK Arts are outlined by an artist, in this case, Elliott Addesso, and then students are the ones to fill in the outline.
Daisies
Artist: Kelsey Witt
Located in the NEON's health and wellness center, this mural pays homage to the healing process, which can take two forms: physical or mental healing. A body's cells must heal for rebirth, symbolized by the mural's blooming flowers.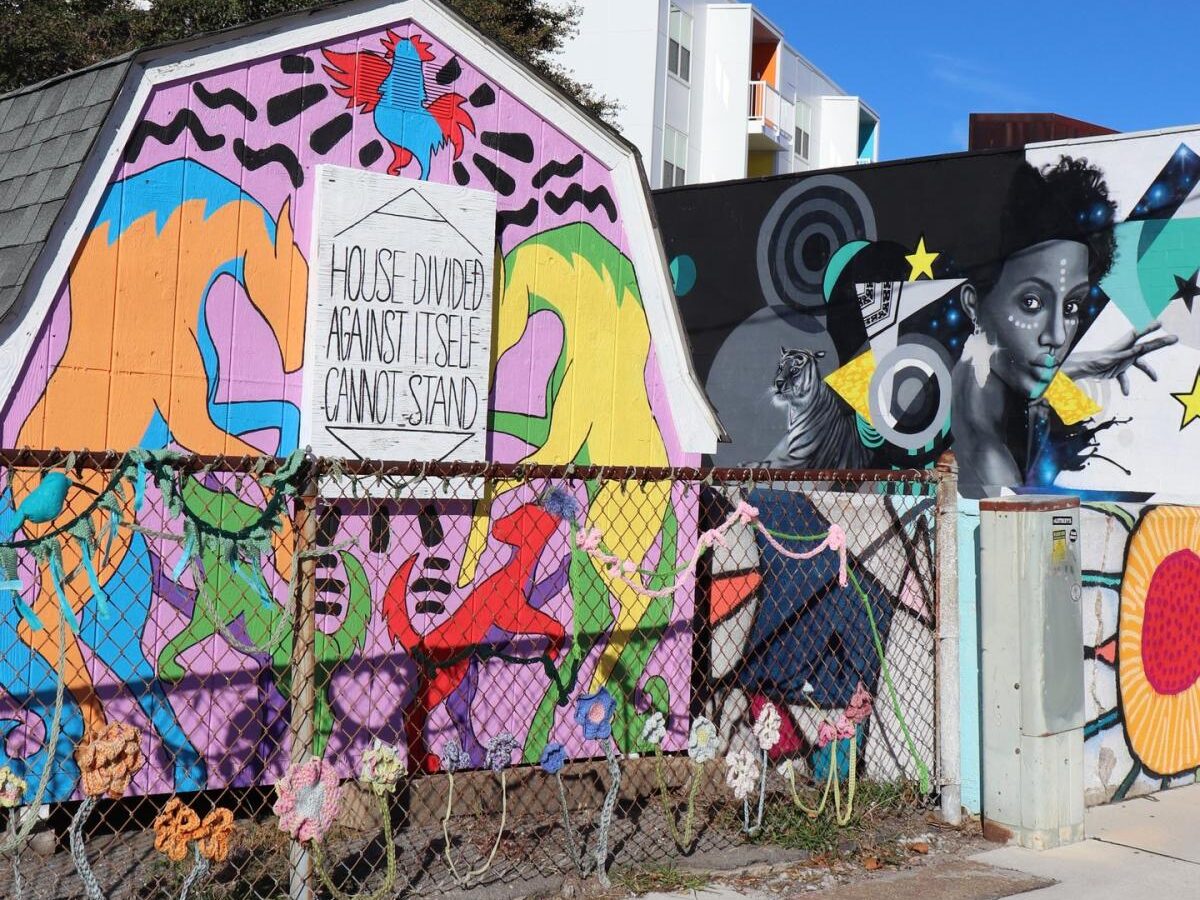 Solidarity
Artist: Aimee Bruce
This piece takes inspiration from "Animal Farm" and features different animals supporting the building, including a horse, a chicken and a cat to symbolize how everyone must come together as a community in spite of our differences.
Neighborhood Markers
Artists: Natalia Pilato with local teens and adults
Local teens and adults assisted in a "paint-by-number" process to create a 63-foot-long mural on the CHKD Thrift Store in NEON. Designed by Natalia Pilato (art education program director and assistant professor at ODU), the 1,500-square-foot artwork represents community and unity and celebrations neighborhood youths.
For more information regarding free public art tours click here. Don't forget to tag us in your pictures! #VisitNorfolkVA