We can be guilty of always toting our larger attractions throughout our city, but should not forget the more unknown locations that leave you asking others, "did you know?" These places and landmarks are what set Norfolk apart from any other city. Here are a few of our favorite unknown spots that you can still enjoy now or add to your "must-see" list for later.
Mile Marker Zero
We all love a hidden gem, especially nowadays when social distancing is crucial. Have you seen mile marker zero behind the Nauticus campus? This once concrete grey dock became a canvas for local artist, Rick Nickel. Beautifully painted on the spacious dock is a 3,000 square foot mural, the magenta line, the name deriving from a navigational guide on the Intracoastal Waterway nautical charts. With hand-painted benches lining the dock, it makes for the perfect picnic spot. Contact Nauticus for Pier operating hours.
Fred Heutte Center
This might be Norfolk's best-kept secret! The Fred Heutte Center is a nonprofit horticultural center housed in a restored 1887 ferry terminal. The terminal served Norfolk and Portsmouth ferry riders up until 1952 and then was deconstructed to be relocated to 1000 Botetourt Gardens, the heart of Norfolk's Ghent neighborhood. The area incorporates four different gardens: a perennial garden, the herb knot garden, the heirloom vegetable garden, and a water garden.
Norfolk Boat Club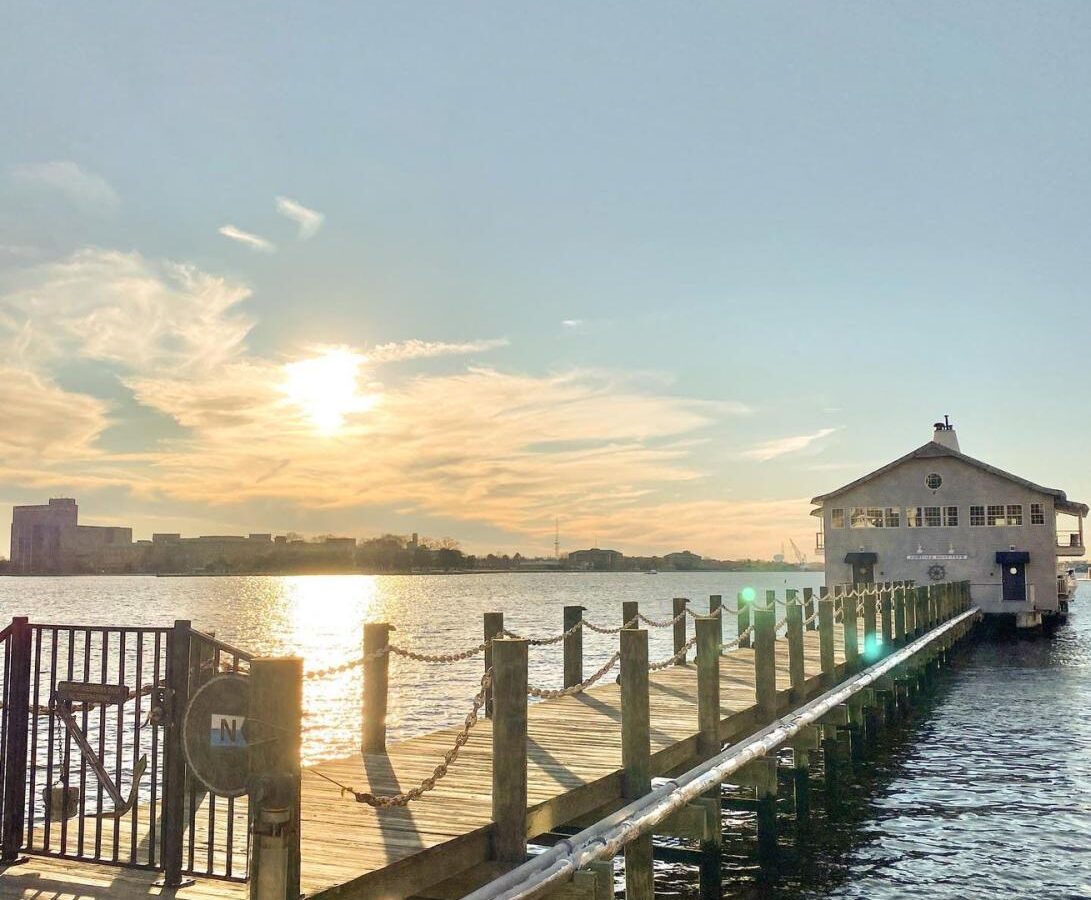 Norfolk has historical sights and homes dating back to the 1800s that are scattered throughout the city. Take a stroll through Freemason District and take notice of all the old facades. At the end of West Freemason Street is Norfolk Boat Club, a Norfolk landmark since 1893! Not only is the Boat Club a staple landmark to Norfolk's history, but also makes for an ideal place to watch the sunset.
Quarantine Road
Quarantine road has a bit of an eerie connotation at the moment, however, this street holds significant history. Constructed in 1783, it's one of the oldest roads in Norfolk to still exist. The purpose of the road was to minimize the spread of infectious diseases from foreign passengers and merchants, like yellow fever. Take a stroll or bike down the road and locate the historic maker that resides here near Old Dominion University.
McClure Field
Attention all sports fanatics, did you know Norfolk is home to the second oldest brick baseball stadium in the United States? McClure Field was constructed in 1918 and was host to several major league baseball stars such as Bob Feller, Pee Wee Reese, Dom DiMaggio and Phil Rizzuto.